Athletics
World Cup Fever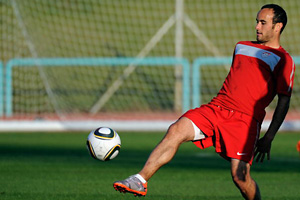 Billions — that's right, with a "b" — of people will be glued to their TV screens at some point during the World Cup, the grandest sporting event on earth.
The month-long competition kicks off June 11 in South Africa, and for football-mad fans in places like England, Italy, Germany, and Argentina, life will come to a halt when their national teams take the field.
Literally. Erran Carmel, a professor at American University's Kogod School of Business, studies how large multinational corporations work efficiently across time zones. He recently traveled to Cup-contender Brazil, and asked managers there how they plan to deal with workers who won't miss the games for anything.
"It was self-evident in every single company we visited that work will stop when Brazil plays," said Carmel, who posted an entry about worker productivity and the Cup on his blog.
It's Todd West's job to study soccer, so when the games start, the AU men's soccer coach will be watching. Intently. A lifelong player, coach, and fan, West took a few minutes to share his thoughts on this year's competition with American Today.

Q – What can fans expect from the American team this year?
A - I'm optimistic that we can advance, which might sound strange after going 0-2-1 in the last World Cup. I think we're facing England (on June 12) at a good time. Usually the first games of World Cup teams are a little bit tentative. We might be able to get a draw or steal a win. I think our ability to fight and work is always one of our greatest strengths. Not only do we have that now, we've got guys that are playing on some of the best clubs in the world.

Q – Are there any particular players on the American side you really enjoy watching?
A – [Landon] Donovan and [Clint] Dempsey. Dempsey just finds a way to score goals. He's the proverbial 'can pull the rabbit out of the hat' type of guy. He seems to show up on the big stage. I think Donovan is one of the most dynamic players we've had in a long time. And Tim Howard needs to come up with one or two big saves that maybe the keeper shouldn't make that keeps us in the game.

Q – Who are some of your favorites?
A – I'm calling Mexico to have a pretty good run. I say that because I think they've got a good mix of veterans and youth, and they're so technical. I think they could go to maybe a quarterfinal if things work out.

Q – Which team are you picking to win it?
A – Spain or Brazil. You never know, because it depends who wins the groups in terms of the seeding, but they would have to be my favorites going in.

Q – Who are a few players fans should keep an eye on?
A – One of my favorite players is [Andres] Iniesta for Spain. Cesc Fabregas for Spain is fabulous if he's healthy. Xabi Alonso I love for Spain. I keep naming the Spaniards. I think they're fantastic.
Then the Brazilians. I think their second team could be the third-best team in the world.

Q – Do you have your players watch these games?
A – They do it on their own. I tell them pick a team or pick guys that play your position and watch how they play. Watch the subtleties, try to learn from the best guys in the world. We all know a picture says a 1,000 words, so just watch. I think they know more about these teams and players than I do.

Q - Americans have bought the second highest number of tickets for the Cup (behind only South Africans). What, if anything, do you think that says about the state of the game in the country?
A - I hope it means that the game's growing. I read that between 25,000 and 40,000 Americans will be in South Africa. The question is, are they all going to be watching the U.S. team? I hope they are because then you have a friendly environment. I would love it if we had 40,000 U.S. fans at the England game, but my guess is that they're going to be spread out at different venues.
I think the game has certainly grown. The World Cup in '94 probably was the beginning of that.

Q - How many games do you think you'll watch?
A - I'd say at least half of them. I've got a TV upstairs and downstairs, I'll be TiVoing different games on both of them since the TiVo box gets too full. I try to watch as many as possible and learn as much as you can, even if it's something as small as a restart that you haven't seen before. You can always pick something up.

Q – So how excited are you?
A - Absolutely excited. I map out the summers around the World Cup games every four years. I can't wait.

Q – Since it's part of your job, will you be watching some of the games here in the office?
A - We call it professional development