On Campus
AU Central Opens Its Doors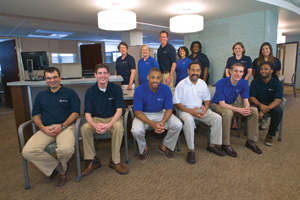 AU Central—the university's new one-stop shop for students with questions about their registration, bills, or financial aid—opens July 1.
When the first student strolls into the shiny new space in Asbury 201, they will find a customer service oriented office that will revolutionize the way in which they conduct much of their business on campus.

"The days of students self diagnosing their problem and searching for answers in a variety of offices is over," said Jonnel Clothier, director of operations.

In 2008 the university began studying ways to create more integrated student services.  For the past 15 months, more than 50 people have "directly and intensely" been involved in bringing AU Central to life, said interim director Elizabeth Douglass.

"The students aren't here to do their business processes, they're here to get an education," she said. "What makes them and their parents angry and frustrated is the fact that we are often not making these business-related processes transparent and easy. The whole goal is to better serve the students."

AU Central serves as the front door to three offices, which will retain their functions. But rather than having to deal with each office individually, students will interact with a single counselor at AU Central.

"Any question that a student would have taken to Financial Aid, Student Accounts, or the [Office of the] Registrar in the past, they'll now take here," Clothier said. "We'll handle it from end to end."

Every student who calls, e-mails, or walks into AU Central will have an electronic ticket opened by one of the eight full-time counselors who staff the office. It won't be closed until the problem is resolved.

"It serves two purposes," Clothier said. "It's going to help us manage student cases. We've configured it in a way that we have all these checks and balances so we can be sure that we're not going to lose someone's case. There's a mechanism for it to move up to the supervisors. There's a real accountability that goes with a ticket being opened on behalf of a student.

"It's also going to help us keep track of what's coming through the door. If 50 percent of the international students who come to AU experience the same problem, we can ask ourselves, 'What are we not doing to serve these students?'"

Using technology to streamline student transactions is a major goal for AU Central moving forward. Students will be able to conduct certain transactions online through the portal.

"Whether it's paying their bill, applying for whatever, or dealing with an issue that comes up in their financial aid package, we'd like to have as many processes as possible automated so the students can just take care of it at 2:00 in the morning if they want," Douglass said. "The plan is that more and more of the functions we are providing will be automated [over time.]"

AU Central represents a fundamental change in the way not only the university does business, but more importantly, in the fashion students do business with the university.

"From the highest levels of the university down to the directors of these offices and the staff, there is a real commitment to the concept," Douglass said. "We are restructuring ourselves to make it easy for the students rather than easy for us."