Arts
What's in store at the Katzen?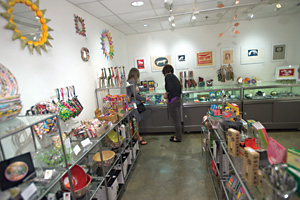 Looking for a neat gift—or maybe you just want to treat yourself? Forget Etsy, you can find the perfect, little something at AU's Museum Store.

Nestled in the Katzen Arts Center, near the AU Museum, the store—which opened its doors in September 2008—features a variety of treasures, priced from $2 to $1200. Many of the items are crafted by local artists, while other products—including jewelry, vases, and handbags—are made from recycled materials.

"We have a lot of socially-responsible products and handmade items," said Ann Miller-Lee, retail operations supervisor. "Products change all the time, so there's always something new to discover."

The Museum Store is open from 11 a.m. to 4 p.m. Tuesday to Sunday.