Student Life
Student Health Center Awarded 3-Year Accreditation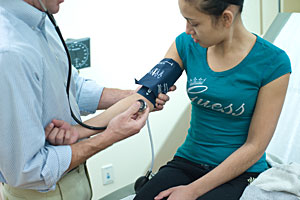 The 7,000 patients who turn to the Student Health Center each year with their aches and pains are in good hands: AU's medical facility has been accredited by the Accreditation Association for Ambulatory Health Care.
AU, which has been accredited for the maximum three-year period, becomes only the second university in the Washington, D.C., area to receive the organization's stamp of approval.
"College health centers have a reputation for not providing the same quality of care as private facilities," explained director Dan Bruey. "This accreditation says to students that everything we do has been reviewed by an outside agency and that we're providing the best care possible."
Each year, students make about 14,000 visits to the health center for everything from immunizations to the common cold. Located in McCabe Hall, the facility also offers emergency and after-hours care.
According to Bruey, the accreditation process—which includes a review of procedures, safety practices, budgets, and patient satisfaction surveys—began 18 months ago.
"It can be a hard sell to say 'let's embark on this long process,' but everyone pitched in because we all wanted that stamp of approval," said Bruey of his staff of 15. "We want to show our students that we're listening to their needs and striving to offer the best possible service."