In the Community
Donated Sunglasses, Vitamins  Distributed in Haiti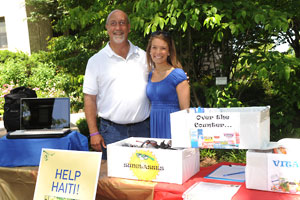 Heather Smith asked for help and the AU community answered, opening their hearts and wallets.
A Human Resources administrative assistant, Smith spearheaded AU's Haitian relief drive in the months after the devastating 7.0 earthquake rocked the Caribbean nation Jan. 12, killing 230,000 people and displacing another million. She collected 199 pairs of sunglasses, 32 bottles of vitamins, and 36 containers of ibuprofen, antacid, and other over-the-counter items.
The items — all donated by faculty and staff — arrived in Haiti at the end of June.
A Simpsonville, Ky., native, Smith organized the drive with her father, Randall Childers, a firefighter and EMT who travelled to Haiti for a 10-day medical mission in March. Along with 14 other volunteers, Childers saw more than 1,500 patients in four days; his stories of devastation, loss, and the resilience of the human spirit spurred his daughter to action.
"I'm very proud of what she's done here," said Childers, who joined Smith May 20 during the Staff Appreciation picnic to solicit donations. "She's everything a guy would want in a daughter."
Smith's desire to help also stems from her own tragedy.
In 2008, she survived a devastating tornado that tore though Union University in Jackson, Tenn., leaving her with little more than the shirt on her back.
"You have no idea how precious any gift is to someone who needs it," Smith said. "There's great reward in knowing you've helped someone and, from my perspective, there's great humility and appreciation in knowing you've been helped and that someone cares."