Athletics
Student-Athletes Reach New Academic Heights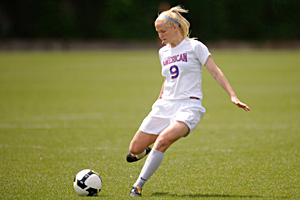 The spring semester showed exactly why "student" comes before "athlete" at American University.
Thirteen Eagle student-athletes posted a perfect 4.0 grade-point average, leading an overall department 3.37 GPA—the highest single semester mark in program history. Additionally, 88 of 235 student-athletes were named to the Dean's List.
Wrestler Daniel Mitchell was one of the "Perfect 13."
"Coach Cody keeps us in a pretty straight life, so as long as you're doing what you need to do it's an attainable goal," said the sophomore, who plans to double major in international studies and business.
Maureen Breslin is coordinator of the athletics department's academic support program.
"The keys to being a successful student are skills student-athletes learn in, or are reinforced by, their athletic lives," she said. "The discipline needed to set goals and meet them works for both academic goals and athletic goals. Perhaps most importantly, they understand how to shift tactics if something is not working. When poor academic results happen, student-athletes know that they need to change their training or strategy, just as they would when facing a skilled athletic competitor."
The spring Patriot League Academic Honor Roll featured 88 AU student-athletes, a 26 percent increase from the year before. To be eligible for the honor, a student-athlete must earn a 3.20 GPA and be awarded a varsity letter in one of the conference's championship sports in the spring semester.
"We take great pride in the academic accomplishments of our student-athletes," director of athletics and recreation Keith Gill told AUEagles.com. "This achievement highlights the dedication of our student-athletes in the classroom and the commitment of our coaches to the academic mission of the university."
Mitchell, who enjoyed his Spanish classes most of all last year, believes that compartmentalizing his time and attention is the key to his academic success.
"When you're doing your sport, focus on that, and as soon as you leave the room or step off the field focus on the other things," he said. "You have to make sure you keep them separate. You've got to live your life first."
"Students' athletic lives allow them to understand that even when they don't win, the effort and practice were still worth it," Breslin said. "The skills they develop aren't just about putting a ball in a hoop or a goal. The benefit is the ability to select a goal and work toward it, even if they don't always win."
The "Perfect 13" are:
Jasen Borshoff (wrestling, Kogod School of Business)
Adam Brownstein (men's soccer, School of Public Affairs)
Friederike Engel (women's soccer, College of Arts and Sciences)
Rebecca Heath (volleyball, College of Arts and Sciences)
Matt Makowski (men's soccer, College of Arts and Sciences)
Jessica Micciolo (track and field, College of Arts and Sciences)
Daniel Mitchell (wrestling, Kogod School of Business)
Eliza Morgan (lacrosse, Kogod School of Business)
Nick Pitas (wrestling, College of Arts and Sciences)
Alyssa Romano (lacrosse, School of Communication)
Jenna Stasiewicz (women's soccer, School of Communication)
Emily Stovicek (field hockey, Kogod School of Business)
Jamie Tkach (swimming and diving, College of Arts and Sciences)