On Campus
2010 Scholar-Teacher to Freshmen: "Education is a Joy"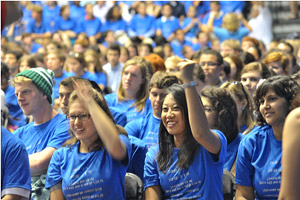 Spirits were high and smiles were broad as 1,500 freshmen filed into Bender Arena during American University's 85th annual Opening Convocation, August 20. Led by bagpipers and surrounded by cheering faculty and staff, the processional was not unlike the march they'll make in four years when the members of the Class of 2014 cross the stage to collect their diplomas.
"These next years will be among the most important years of your lives," said AU president Neil Kerwin. "You will leave here educated, expert, and experienced.

"Now you begin preparing for a lifetime of putting the knowledge and experience you gain here to work for yourself, your families, your community, and your world."
Donning matching T-shirts with the AU fight song printed on the front, the freshmen were welcomed by Provost Scott Bass, Student Government president Nate Bronstein, and 2010 Scholar-Teacher of the Year Andrew Popper, whose rousing rallying cry received a standing ovation.
"I've been [at AU] 31 years, and coming here was the best decision of my professional life," said the Washington College of Law professor. "Your blood is type A, type B . . . my blood runs AU."
Popper encouraged the freshmen to make the most of their undergrad experience because "the world is waiting for you.
"We are hungry for alert and informed, engaged and conversant people who see their education as a joy and not an obligation.
"AU," he concluded, "is a place that changes lives . . . this is a city that changes lives and changes the world."