Education
DCPS Teachers Learn ABCs of Arts Integration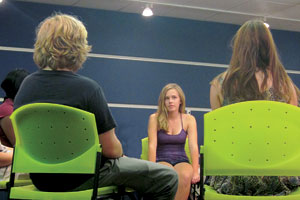 For four days in August, D.C. Public School (DCPS) teacher Chad Wallace was the student learning how to incorporate song, dance, and drama into his lessons and help his students grasp difficult concepts—like Spanish verbs.
The Spanish instructor from Takoma Educational Center was among 78 DCPS teachers who sacrificed a sliver of their summer to participate in Imagination Quest (IQ) at American University.

IQ—the brainchild of AU theatre professor Gail Humphries Mardirosian and Imagination Stage founder Bonnie Fogel—brings together AU's theatre department and the Bethesda children's theatre to teach teachers from under-resourced schools how to integrate the arts into their classrooms.

Wallace, a second-year teacher at the northwest Washington school, signed on for Imagination Quest to learn how to reach more students. "Last year I had a girl in my class who was one the smartest kids in school, but she never said a word. I discovered that everyone learns in different ways and that, with more planning, I can reach all the kids in my class.

"I'm interested in kinesthetic learning," where students learn by carrying out a physical activity, he continued. "As a class, we're going to determine what the best action would be for each [Spanish] verb. I see lots of possibilities for games and competitions."

Led by Mardirosian, the trainings were designed for instructors from the schools in the DCPS Catalyst project that requires participating schools to adopt a theme—science, technology, engineering, and math (STEM); arts integration; or world cultures—as a framework for improving student engagement and building community resources.

The 2010 IQ cohort hailed from Ludlow-Taylor Elementary, Tyler Elementary, Sousa Middle School, and Takoma Education Center: the four Catalyst arts-integration schools.

The teachers' quest will continue, said David Markey, director of theatre education at Imagination Stage, by working with the theatre over the next three years. Imagination Stage's goal is to ensure the arts-integration methodology seeps into each school's culture.

"By the final year, teachers will be comfortable using the arts-integrated lens. They'll take the lead in crafting and implementing lessons, and we'll be there to consult and support. Schools ultimately need to be self-sustaining —so the hope is that we're doing ourselves out of a job," he noted.

Markey, who also teaches in AU's School of Education, Teaching and Health, is enthused about the program's tremendous potential for bringing about change in public school education. "In 30 years, each teacher can reach 1,000 students—that's huge," he said.

Multiply 1,000 students by some 2,600 teachers from across the nation who have participated in IQ since its 1995 founding, and you see the reason for Markey's excitement.

Mardirosian agrees: "I think we can change the face of education. As an artist and an educator, I see the vitality it brings to the classroom for the student and the teacher. It changes the learning experience. To see the light bulb go off for these teachers . . . that's the absolute joy of my life."

The Imagination Quest program has expanded to Baltimore, Tampa, and New Hampshire.