Environment
Waste Not: New Vegawatt Converts Oil into Electricity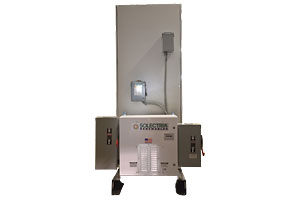 Welcome the Vegawatt and eat more fries.

That's Chris O'Brien's rallying cry now that American University has become the first school in the country to use a Vegawatt, an innovative machine that converts waste vegetable oil into electricity and hot water.

By using 90 gallons of oil per week from the Terrace Dining Room, the Vegawatt will produce 77,000 kWh of electricity each year, thereby avoiding 40 metric tons of carbon dioxide emissions—about the same amount produced by 12 passenger vehicles per year.
"We like to say that waste is just something you haven't found a use for yet—and now we've found one," said O'Brien, director of sustainability.

Before the Vegawatt, AU's waste oil was transported to a farm and converted to biodiesel. "That's much better than dumping it in a landfill, but the Vegawatt is even better because it eliminates those truck trips," said O'Brien. "Also, there are no chemical additions and the oil's not cut with anything. It's just 100 percent waste that's converted directly to electricity."

With green wonks one of the first T-shirts to be grabbed up at Monday's Celebrate AU the fact that Vegawatt will help advance AU's plan for carbon neutrality by 2020, seems no coincidence.