On Campus
Welcome Class of 2014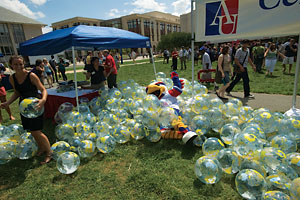 While the calendar has not yet turned to September, the return of students to campus certainly makes it feel like fall (granted, a hot one) around here. Each year traditions like Convocation, held the Friday before classes start, and Celebrate AU on the following Monday help mark the beginning of the academic year. 
The keynote address at convocation was given by the 2010 Scholar-Teacher of the Year, Washington College of Law professor Andrew Popper. We have reprinted an edited version of his stirring speech here.
Celebrate AU this year was unlike any before it. The afternoon on the quad hosted by President Neil Kerwin this year also served as opportunity for the university to introduce its new "wonk" identity.
Under a sun-splashed blue sky, students gobbled down hot dogs, licked ice cream, tossed inflatable globes, and chose from 18 styles of limited edition wonk T-shirts, each featuring a drawing by Washington Examiner editorial cartoonist Nate Beeler, SOC/BA '02. Peace wonk tees were the first to go, followed by global, then green. Sound like AU?
While many students thoughtfully chose the type of free shirt they wanted, that wasn't all that made it a delightful back-to-school day. Traditional Celebrate AU food and fun also were on the menu. Some 1,100 meat hot dogs and 200 vegetarian ones were consumed, along with 900 ice cream bars and sandwiches for dessert. Students bounced, balanced, and tossed 750 inflatable globes.  
---
Excerpted from the fall 2010 freshman Convocation speech delivered by Professor Andrew Popper, Washington College of Law, on Aug. 18.
Congratulations on your admission to American University.

The next few days are designed to introduce you to some of the great and compelling aspects of this University—special programs, areas of emphasis—matters, I suppose, of some importance. I have a slightly different task.
Some of you are here because you have a special interest.
You think you know your major.
You think you know what you will need to pursue your career.
Perhaps.
Most of you are thinking: "I haven't the slightest idea where I will end up in four years."
I applaud your intellectual honesty. You are the norm.
I want to suggest that you begin your education with an open and inquiring mind. This is one of the great universities in this country—and that means it can provide a solid foundation for you to enter many different fields.
Create a strong foundation—you do not know where you will end up.
In my field, we debate specialization all the time. Law students often think that if they have not selected their area of emphasis by orientation, they are in trouble.
Nonsense.

The truth is, the best tax lawyer is the best lawyer. The best international human rights lawyer is the best lawyer.
The best civil rights, environment, securities, or criminal lawyer is the best lawyer. Excellence requires mastery of fundamentals.
Don't get me wrong­—there is a stunning richness to the AU curriculum. It allows one to focus on many and varied specialized fields.
The curriculum—that grand array of courses—is more than sufficient to allow you to become great teachers, physicians, architects, public servants, politicians, mathematicians, musicians, writers, athletes, psychologists, engineers, pharmacists, and lawyers.
Whatever you do, first become steeped in the essential philosophy, theory, history, language, art, science, and more.
To be well educated, alert and informed, conversant and engaged in multiple fields, is a joy—and a prerequisite to successful careers in all fields.
What lies ahead
Your job is to proceed with respect and intensity, with the dignity and importance your education demands.
In what seems to you a lifetime—and to me the wink of an eye, you will become graduates of this university, facing a world badly in need of dedicated, bright, committed, energetic people who will produce nothing less than our future.
In this, the most complex society ever conceived by humankind, there is a powerful need for well-educated, open-minded, creative, and energized people who can catapult us forward.
You can be that person.
I am guessing you are somewhat in denial—and who wouldn't be?
You're just starting out. You're worrying about roommates; you suppress thoughts and feelings about what you left behind. We all did.
You hope that this is all going to work out. We all did.
So why am I talking about things that are years into the future?
Because your hopes, your commitment to task, your investment, are not really about next week—they are about our future.
You will have the opportunity to change lives.
You will come to know the successful and the oppressed.
You will be part of—or perhaps central to—the continuous reformulation of the economic, social, legal, scientific, or artistic domains.
What a grand moment for you —and for us.
Life has few grand moments —take one now—consider what you are about to do—and enjoy it, deeply and fully—it is deserved.
Use what you learn
What you will learn at this university can be used to affirm and enforce the fundamental right of people to be free, to prosper, to survive.

What you will learn can facilitate the healthy development and distribution of capital.
What you will learn can provide innumerable ordering mechanisms that substitute for the more base human reactions of revenge or anger or greed.
What you will learn can insure that rational operating principles govern free and fair elections.

What you will learn can be used to render fair and efficient our unfair and inefficient health care system.
What you will learn can be instrumental to and definitional for international agencies and institutions created to accomplish objectives of peace, international stability, and the recognition of human rights.
What you will learn can help provide the muscle to protect our environment.
Your education is the great equalizer—and the source of tremendous power. With this power comes responsibility, a commitment to optimizing the learning experience.
In exchange for providing this power, demand of yourself mature effort and consummate dedication.

On August 7, the U.S. military command in Iraq handed over to Iraqi central command; primary responsibility for the remainder of the military campaign.

In less than a year, we will begin to withdraw our forces from Afghanistan.
Several months ago, the worst man-made environmental disaster in our history began— and then continued in public view for eight weeks.
The federal deficit is at record levels.
The economy is fragile.
The two major political parties—and the Congress—are on about the same credibility and popularity level as serial arsonists.
And yet—there is great hope—because of you.

We need you.
There is a sense that the future will be better—because of you—and, from where I sit, because of this university.
I am part of a faculty that has a deep and comprehensive commitment to teaching and scholarship—and that means a commitment to you. Seek out faculty—as much as you might think otherwise—they are here for you.
Learn about this city
There is no better place to study. 
Be open to externships—but not limited by them. 
Careers are built by education —and by networking. 
Venture off campus. Work—or volunteer—on the Hill, at a federal or local agency, or at any nongovernmental entity that is seeking to influence the legislative and regulatory process.

AU is an incredible place. Every day, I come to work thinking how lucky I am to be here. That has been the case for three decades. I am, in the truest sense of the word, grateful. I have come to see what the students of this university can do—and it is inspiring beyond words.

So here you are. Your shoes are in the blocks. The starting gun is about to fire. This is your time—this is your moment. I cannot wait to see what you will do.