Environment
Fiorino Focused on Making Environmental Policy Proactive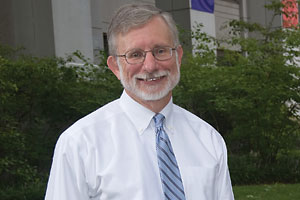 The Gulf of Mexico oil rig disaster has been described as an environmental catastrophe and a human tragedy.
Daniel Fiorino has another phrase to add to the list.
"In the public policy field we call these focusing events," said the School of Public Affairs executive in residence. "Big dramatic events that suddenly draw attention to an issue or a problem and then galvanize people to do something about it. After Exxon Valdez in 1989, the next year we had an oil pollution prevention act. We're going to see some changes in how we license for drilling as a result of this. Maybe if you brought people together and thought out some of the issues and pointed out some direction you could make some progress. Instead of waiting until the next crisis, let's try to anticipate."

That's essentially the mission of SPA's new Center for Environmental Policy, which Fiorino directs. A 31-year veteran of the U.S. Environmental Protection Agency, Fiorino came to AU last year to establish the center.
"Our focus is on environmental governance, which I know is sort of a wonk term," said Fiorino, who has taught as an adjunct professor at AU for a dozen years. "Environmental decisions are very complex. They involve lots of scientific and economic information. They affect lots of different people and groups in society. We're not a hardcore scientific organization, and we're not purely an economic organization. We're really focusing on how we as a society make different decisions, how we engage different people, how we use information. I'm hoping that we will be able to identify either some issues or areas of policy where we can have a constructive dialogue."
Fiorino has been helping facilitate those kinds of conversations since his earliest days at the EPA, where he arrived after a stint as a Middlebury College professor. Among his proudest achievements at the agency was leading the effort to establish a program that recognized companies that voluntarily exceeded EPA regulations.
Throughout his career, he never lost touch with the academic world, teaching a class or two every year and continuing to write. After his retirement from the EPA, joining AU was a natural fit.
"Professors learn from students," he said. "You get insight and a different point of view from them. I enjoy their intellectual curiosity."
This semester he's teaching a graduate course on environmental and energy policy, and an undergraduate one on environmental policy and politics.
In today's highly polarized political world, crafting—let alone implementing—environmental policy can be tricky if not downright impossible.
Take for example the hot-button issue of global warming.
"The scientific evidence as far as I'm concerned is very clear," Fiorino said. "The global climate is changing, and human activity, mainly the use of fossil fuels, is the cause. It's very important that we start addressing the issue.
"Yet if you go downtown and talk to people in Congress you'll get very different points of view, one side painting it as a necessary change in a transition to a clean energy economy, the other side saying it's going to cost too much in the face of uncertain evidence. I think that's just representative of a lot of the very basic disagreement we have right now."
Ideally, the Center for Environmental Policy will start to change that dynamic.
"Sustainability is a word we hear more and more these days, and after being skeptical about its value I now think it's a very useful and important concept," he said. "The idea of sustainability is that as a society we face a lot of social and political choices, and we should not compartmentalize them. Instead of saying anything we do to protect the environment will limit economic growth, why not look at it and say what are the opportunities to protect the environment that increase growth or quality of life or competitiveness of U.S. industry?
"Through creative thinking, good information, good analysis, we have to look for ways to go from a zero-sum mentality to a win-win mentality," he said. "It's not always easy, but indeed there are opportunities to do that."