Technology
Tech Fair 2010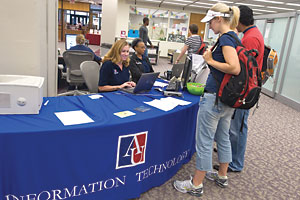 The Office of Information Technology and the AU Library teamed up this year to host Tech Fair 2010.

Held in Bender Library, the two-week event provided students an opportunity to install software on their laptops and learn about the library's new electronic products.

"SearchBox searches over 90 percent of our journal content as well as the catalog as well as some free e-resources," said Gwendolyn Reece, director of research, teaching and learning in the university library. "We thought we should talk to OIT to add in some kind of walk-in workshops, so we combined it with the OIT Connection Fair."

By all accounts, the event was a hit. A steady stream of students strolled into the library from Aug. 16 through Aug. 27 and received one-stop help from OIT and library personnel.

"Tech Fair 2010 expresses the changing and evolving relationship between OIT and the library," Reece said.