International
J. Stapleton Roy Focuses on China at Adair Memorial Lecture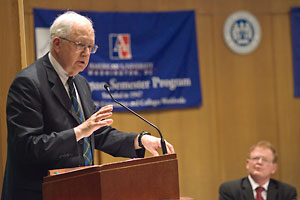 China is the world's fastest-growing power, and its relationship with the United States now is perhaps more complex—and critical—than ever before in history.
J. Stapleton Roy, vice chairman of Kissinger Associates, director of the Kissinger Institute on China and the U.S. at the Woodrow Wilson International Center for Scholars, dissected the relationship during his keynote address at the fourth-annual Caroline and Ambassador Charles Adair Memorial Lecture Sept. 1.
Speaking to a standing-room only crowd at American University's Kay Spiritual Life Center, Roy made no bones about China's current standing in the world as it relates to the United States.
"Despite a general positive overall picture, there is an unhealthy level of mutual suspicion and tension," he said. "The rise of China is hands down the most important strategic challenge that is facing the United States in the next few decades. In a short span of 30 years China has leaped ahead of the United States in terms of the number of people with detailed knowledge of the other country. [But] we are still better positioned than any other country in the world to deal with the rise of China."
The talk was sponsored by the School of International Service, Washington Semester program, and American Foreign Service Association. While he is considerably less pessimistic about China's threat to the United States than other leading academics, Roy believes the U.S. has to undergo two critical changes in order to keep pace with the Chinese ascent.
"We must restore the health of our economy, and we must reverse the impression that we are a declining power," said Roy, former assistant secretary of state for intelligence and research. "Unless we do so our armed forces will shrink and our technological advantages will erode."
China's quick recovery from the 2008 global financial crisis has empowered its leaders, many of whom believe the United States is poorly positioned for the future economically.
"We are dealing with a different China from two years ago," Roy said. "Thanks to its rapid recovery, China now finds itself where it expected to be 10 years from now. The United States has lost credibility in China on financial matters."
Taiwan, Korea, and Tibet remain issues over which Americans and Chinese clash. Yet Roy believes that the countries' mutual interests will conspire—at least in the near term—to maintain peaceful relations.
"The Chinese economy is now embedded in the global economy," he said. "At least in the foreseeable future China will not be strong enough to gain access to [natural resources] through [aggression]. Wiser heads in China will realize that history has not been kind to countries that have underestimated the United States."