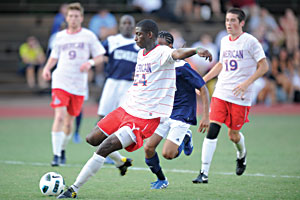 The AU men's soccer team walked off Reeves Field Sept. 12 having dropped a 3-1 decision to Monmouth, the nation's seventh-ranked team. Yet days following the game, AU head coach Todd West spoke about his team with a level of assuredness he hasn't always revealed during his 11 years at the helm.

"I think we're going to end up being a very good team," he said. "We're cleaning some things up on restarts, set pieces, corner kicks. When we do that I think we'll be very good. Monmouth beat us on two corner kicks. If you looked at the run of play, you'd say that we were the better team. So if you say that against the No. 7 team in the country, I think we're in a pretty good place."

Two weeks later, AU loves where they are. On Sept. 25 the team opened Patriot League play by beating defending conference champion Bucknell. Goals by Mike Worden, Nick Kapus, and Cristobal Soto lifted the Eagles to a 3-1 victory.

"I don't think it was our best game soccer-wise, but winning conference games is huge," West told AUEagles.com. "It was a rematch of the championship game from last year so we expected it to be a little bit emotional and physical. I'm pleased that we were able to come out with the result today."

The Eagles have been led this year offensively by sophomore Alassane Kane, who transferred to AU from Vermont. All the forward from Macon, Georgia, did to introduce himself was scorch the back of the net twice during his first game, AU's season-opening 3-0 win over Howard.

"It's pretty rare," West said of Kane's auspicious two-goal debut. "He's getting dangerous. We're working with him every day, because he has the ability to get into one versus one situations."
Defensively, junior Alex Tilatti and sophomore Seth Goldman have been joined by freshmen Soto and Adem Gokturk to form a new back four, a group West calls "a work in progress."

Keeper Matt Makowski has played solidly thus far, according to West, but still needs to take more "command of his box."

Overall it's a youthful bunch, which is why West named senior midfielder Jamie Davin as the team's sole captain. He led AU with four shots against Bucknell.

"Sometimes I let the team vote for the captains, but I picked him," West said. "He's been a good leader, he's got a level head, and he's one of our better players. I thought for this team it was the right thing to do. It's a young group, and this is not a democracy."

The Eagles immediate goal is securing home field advantage for the Patriot League Tournament. As Saturday's win proved, if they can face teams like Bucknell at the friendly confines of Reeves Field, this could be a breakthrough season.

"We're moving forward," West said.

Sport Your Eagles Gear On Campus, Win Prizes

"Fan Fridays" are as simple as that. Throughout the school year, AU students who show their spirit by wearing officially licensed AU gear on Fridays should be on the lookout for Clawed and the AU cheerleaders as they roam campus handing out prizes. Gift certificates for Chipotle, Robecks, and other area restaurants, tickets to special events on and off campus, AU gear, and AU Athletics prize packs could be yours just for showing your Eagles pride.