Student Life
In Robert Hradsky, Students Have a Dean on Their Side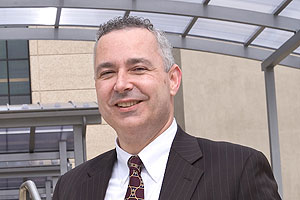 The transition from high school to college is among the most drastic a person goes through in their lifetime.

Parents of AU students can sleep soundly knowing that if their child encounters any bumps along the way, Robert Hradsky will be there to help.

As assistant vice president of campus life and dean of students, Hradsky is the man ultimately responsible for dealing with any alcohol, drug, sexual assault, or mental health issues students might encounter on campus.

"We're in a position when a student is really in crisis to capture their attention and look at ways we can help them turn things around," Hradsky said. "We really do come from a place of caring. We look at the individual students and at ways we can support [them] where they are. I talk with colleagues at other campuses around the country, and that's somewhat unique."

Hradsky came to AU in 2008 from the University of Baltimore, where he served as vice provost for student affairs. Charm City still is home to the Baltimore native (he lives in nearby Woodstock), but professionally he was drawn south to Washington.

"I was attracted to the role here because it allows me to be more closely tied with the students," he said. "AU values are very consistent with my own in terms of social justice and those kinds of things. AU from an institutional perspective was a good fit."

Since his arrival, Hradsky has spearheaded some consequential changes. Every new AU student has since 2009 been required to complete an online alcohol education program.

"The goal is giving them some baseline information about how they can make good decisions about alcohol use if they choose to drink," he said. "We found that about two-thirds of the students who were in the at-risk population actually said that they employed strategies they learned from the program once they got here."

Hradsky created a sexual assault workgroup, which led to the revision of some of the university's policies and procedures and the addition of Web tools to the student handbook. He also led the launch of CareNetwork, an online site faculty and staff can use to share behavioral, academic, or health concerns they have about students.

"They can go on the portal and fill out a brief form alerting us to concerns they have about students," he said. "Each case gets a manager with a goal of trying to address the concern, whether it's academic, a student not attending class, a change in performance, or disruptive behavior."

Last year there were 615 cases, and more than 80 percent were resolved successfully.

"The transition to college is pretty significant," he said. "There are some students who make that adjustment much easier than others. If students are having a hard time connecting with others, we want to look at ways we can intervene and get them connected. That first six weeks is really critical in terms of a successful transition, and we recognize that students having a good experience here affects retention."