On Campus
Steinem: Be Daring in Quest for Social Justice, Equality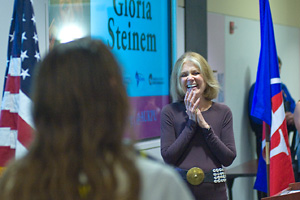 Half a century after she emerged as the face of second-wave feminism, fighting for economic equality and reproductive freedom, Gloria Steinem proved she's still the queen of consciousness-raising.
The 76-year-old was greeted with a standing ovation as she breezed into the Ward Circle Building, Oct. 5, cutting as confident and commanding a figure as she did in 1970, when she led 20,000 New Yorkers in the Women's Strike for Equality. Wearing a sleek jumpsuit and her signature center part, the charismatic Steinem charged the hundreds of students in attendance with doing something "daring and assertive" in the name of social justice and sexual equality.
"I hope we all leave this room with a new feeling of support; some new, subversive organizing tactic; and new friends," said Steinem at the beginning of her 90-minute talk, sponsored by the Kennedy Political Union and Women's Initiative as part of the sixth annual Breastival, which focuses on women's health issues, including breast cancer.
"Because there are just a few things left to do," she said with a smile. "Right?"
A breast cancer survivor, the Ms. magazine founder launched into a discussion of the disease, which afflicted 192,370 people — including 1,910 men — in 2009, according to the American Cancer Society.
Steinem discussed the environmental causes of breast cancer — including xenoestrogens found in pesticides, fuels, and plastics, and hormones used in oral contraceptives and in replacement therapy — noting that "money is made by giving us cancer and money is made by curing it." She criticized the health care industry for "overselling mammograms when most lumps," hers included, "are found by self-examination."
Steinem also explored the "politics of health care," citing statistics that indicate that African American and Native American women have lower incidents of breast cancer than white women but higher mortality rates, due to lack of access and education. She added that men have the highest mortality rate, due in part to the social stigma associated with breast cancer.
"If we think of breast cancer as a path into the whole world, then we'll see that every issue is a women's issue and every issue is a human issue," she said. "Feminism isn't a separate thing — it's a part of everything: health care, the environment, racial equality, and social justice.
"God may be in the details, but the goddess is in the connections," she said.
Cofounder of Choice USA, a Washington-based nonprofit, Steinem said reproductive freedom — "the right to have children and the right not to have children" — remains "the single most important issue facing women today." Calling colleges and universities like American "red hot centers of activism," she implored the mostly female audience to continue to fight for access to safe and legal abortions, child care, and equal political representation.
"We are 82nd in the world in terms of the representation of females in the national legislature," she said of the United States. "We're told that we are the luckiest women in the world, but we're not.

"We need to understand that the voting booth is the one place where [we're all] equal — so we have to use it," continued Steinem, who cofounded the National Women's Political Caucus in 1971. "We need to vote; it isn't the most we can do, but it isn't the least."
The best-selling author of Outrageous Acts and Everyday Rebellions and four other books, the New York City resident is currently writing Road to the Heart: America as if Everyone Mattered, a memoir about her more than 30 years on the road as a feminist organizer. And in keeping with her activist roots, she wrapped up her talk with a challenge.
"In the next 24 hours, do one thing in the cause of simple justice; I promise I will do one thing, too. And by Thursday, the world will be a little bit better.
"And next time, you won't ask yourself 'will I do an outrageous thing?' but 'which outrageous thing should I do?'"