Research
Arthur Shapiro Releases Curveball Study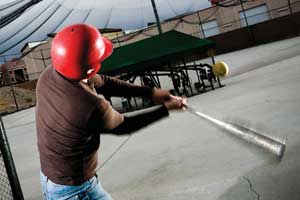 Curveballs curve. Arthur Shapiro wants to be absolutely clear about that. They just don't curve as much as we think they do.
Shapiro and a colleague today released results of a study that explains the pitch's illusion. The research comes on the heels of last year's computer illustration the duo created to demonstrate just that. 
"The curveball does curve, but the curve has been measured and shown to be gradual," Shapiro said. "It's always going to follow a parabolic path. But from a hitter's point of view, an approaching ball can appear to break, drop or do a whole range of unusual behaviors."
The study, co-authored by University of Southern California professor Zhong-Lin Lu was published in the journal PLoS ONE.

Shapiro, a vision science expert in the psychology department, won the Neural Correlate Society's Best Visual Illusion of the Year in May 2009.
The winning entry, which Shapiro created with Lu, Dartmouth's Emily Knight, and Rob Ennis of SUNY Optometry, is a computer-generated graphic that shows how the eye tricks the brain.
"There's good physics to show why curveballs break," said Shapiro, whose 11-year-old twins are bigger baseball fans than he is. "The problem is there's nothing about the curveball that says it should break so dramatically. For someone standing at the plate, it has to do with the transition between looking at it directly and looking at it in the periphery."
On several occasions, Shapiro has dug into an actual batter's box and tried to hit an actual curveball. What happens?
"Usually I fall down on the ground and the pitch is a strike."
Updated October 13, 2010