Environment
Guyanese President: U.S. Should Lead Way in Combating Climate Change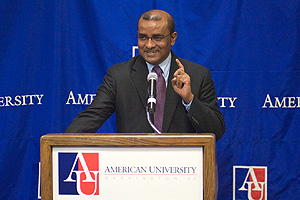 Guyana president Bharrat Jagdeo's message was frank and frightening: the global community is flirting with environmental disaster.
"If AIG was too big to fail, how much bigger is our planet," asked the celebrated environmentalist, who addressed a capacity crowd at the School of International Service (SIS), Oct. 8.
Citing a "drift in ambition" among political leaders — especially in developed countries — Jagdeo said "we are nowhere near a path that will lead to sustainability . . . the world is on a pathway to destruction."
"The consequences of climate change will be catastrophic . . . and if we don't act now, the costs will only mount in the future," said Jagdeo, who delivered the SIS inaugural TRANSCEND (Transnational Challenges and Emerging Nations Dialogue) Distinguished Lecture on Global Governance, hosted by the Department of Comparative and Regional Studies.
One of the youngest presidents in modern history — he took office in 1999 at age 35 — Jagdeo's an outspoken advocate of low carbon economic development. Last year, he launched Guyana's Low Carbon Development Strategy (LCDC), which generates credits and offsets for sale on global carbon trading markets.
Per the agreement, Norway will pay $30 million for Guyana to preserve its 16 million hectares of rainforest. Over the next five years, Norway will pay $250 million—to be disbursed through the World Bank—to fund hydro-power and food security projects, and health and education programs.
About 80 percent of the small South American country is covered by forests. As deforestation accounts for about 20 percent of human-generated greenhouse emissions, Jagdeo said his pioneering program is among the most cost-effective ways to combat climate change. He encouraged the United States and others to develop equally innovative initiatives.
"If a small, poor, developing country can make a commitment [to sustainability], then it will be immensely easier for the developed world to do the same.
"The United States is still stuck in the mode of seeing this as a cost, but the countries that develop and deploy green technologies will lead the way," he continued. "The U.S. risks missing out."