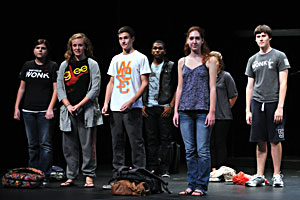 Call it the seven year itch.
After staging the same play every September since 2003, theatre professors in American University's Department of Performing Arts (DPA) decided to it was time to reshape and refresh the new student showcase.

Perf 101, penned by Caleen Sinnette Jennings, "was becoming a little too comfortable for the students," said theatre professor Javier Rivera. "The kids were honest with us. They said: 'it's time for something new.'"
This week, the curtain will rise on Almost Me and Outta Here, a one-act play and one-act musical written by Jennings and her former student, Rivera, CAS/BA '96. Showcasing 26 young actors—most of them freshmen—the performance marks DPA's first show of the season.

Almost Me, based on Perf 101, follows a group of freshmen as they adjust to the drama of college life and prepare for auditions for the first musical of the season. Outta Here—featuring original music and lyrics by Rob Rokicki and Michael Ruby—focuses on young adults struggling with regrets and what-ifs as they return to college for their five-year reunion.
Of course, there's a plot twist.
"The musical the students are rehearsing in Act I is actually Outta Here," explained Rivera. "So, the audience will be watching a play about kids putting on a play—and Act II is the play."
"It's a smart play for a smart audience," he said, "and it's going to be a lot of fun."
DPA co-chair Jennings created the new student showcase in 2003 especially for freshmen. Because the first production of the fall is cast in spring, first-year students were shut out from the stage until November.
"This got them engaged in something immediately. It introduced them to each other, to our space, and to our staff," said Jennings. "Most of all, it gave them a chance to say to the AU community: 'This is who we are, and this is what we can do.'"
Matt Rubbelke, an international studies major in the School of International Service (SIS), is among this year's crop of freshmen actors.
"Theatre has been a huge part of my life, and I really live for any chance to perform," he said. "I've really enjoyed the sense of community I get from the ensemble. We really grew together throughout this show and became one big, happy, multitalented family."
Matthew Ingraham, also an SIS freshman, was involved with theatre in high school and planned to "do it on the side" in college.
"To my disbelief, I got a great part and a song in the show, and I'm realizing I want theatre to be a much larger part of my life than I originally planned," he said. "I've had so much fun with this freshmen showcase. I will remember this experience for the rest of my life."
For Rivera, himself an AU theatre grad, the production is a return to his roots.
"I look at them and I remember my own freshmen year. It's a little surreal," he laughed. "But their energy and enthusiasm is contagious. I love coming to rehearsal and seeing 26 eager, excited, creative minds ready to work.
"I want them to fall in love with theatre—whether it's live performance, behind-the-scenes work, or the writing process. Maybe they just see a play or two every six months. I want them to be involved in theatre, in some form, for the rest of their lives, because it's made all the difference in mine."
Almost Me and Outta Here will be performed at 8 p.m. Friday, September 24, and Saturday, September 25, at AU's Greenberg Theatre. Tickets are $5. For more information, call 885-2587.