Education
SIS, Peace Corps Partner to Offer Graduate Degree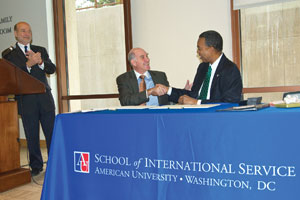 American University shares a long, rich history with the Peace Corps. And on Oct. 20, that "natural partnership" got even stronger with the establishment of the Master's International Program (MIP) in the School of International Service—a graduate program that combines course work with overseas service.

SIS joins more than 80 schools and colleges nationwide that offer the degree, including the College of Arts and Sciences' TESOL program. TESOL partnered with the Peace Corps in 1999 to offer the MIP, a 36 credit hour–program that pairs courses in linguistics, culture, English, and education with an internship completed during Peace Corps service.

Several TESOL students, who are working towards an MA, are currently serving in Mongolia and China.

"Through the Peace Corps experience we believe our students will bring a richer, more complete perspective to the classroom and, later, to their lives and careers," said Provost Scott Bass at the Oct. 20 signing ceremony. AU continues to "embrace its commitment to preparing leaders for tomorrow."

According to Peace Corps director Aaron Williams, "AU is one of our highest producers of volunteers." About 780 alumni have served in the Corps since its inception in 1961; currently, 51 alumni are working around the world, from Albania to Zambia.

Stressing "our shared values: understanding, peace, and security," Williams said "we need you because we want to have a strong and engaged Peace Corps for the next 50 years . . . This is a natural partnership," he added.
Learn more about the Master's International Program, Thursday, November 11, from 5 to 6 p.m. in SIS 109.