In the Community
Tenley Trail Offers Glimpse into Neighborhood's Past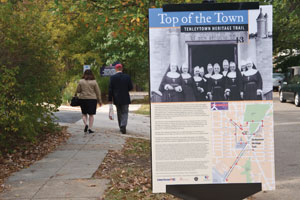 Did you know that Kermit the Frog got his start in a Tenleytown television studio? Or that, 100 years before it was overrun by soccer players and sunbathers, the lawn in front of Washington Semester's Dunblane building hosted the most fashionable fox hunts in all of Washington?

Thanks to 19 new signs erected this month by Cultural Tourism D.C.—an independent coalition of more than 230 culture, heritage, and community groups—you can brush up on your Tenleytown trivia.

Signs—which celebrate the D.C. community that started as a tiny village centered around John Tennally's tavern on Wisconsin Avenue and River Road—feature engaging facts and historic photos of the neighborhood. They line the three-mile Tenleytown Heritage Trail, which snakes around the AU campus, from WAMU to Ward Circle.

Cultural Tourism D.C. will host an unveiling with Councilmember Mary Cheh, Nov. 13. The event will kick off at 1 p.m. at the Fort Reno bandstand on Chesapeake Street between 40th Street and Nebraska Avenue and also will feature open houses along the trail.