Athletics
Faculty and Staff Basketball Classic Set to Tip Nov. 10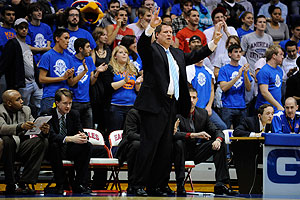 Faculty versus staff in a basketball game, with the winning team's banner hanging all year from the Bender Arena rafters?

Sounds like an instant classic.

This year's American Madness basketball rally on Nov. 10 has a new twist: the inaugural Faculty and Staff Basketball Classic, which tips off the day's events at 5:30 p.m.

"We're always trying to figure out ways to build community and bring the campus together," Athletics Director Keith Gill said. "We were having a conversation with two faculty members, and based on that conversation we said let's try to do this, let's create a nice little tradition. We're really trying to bring people together and have a little fun."

The game is part of a week filled with men's basketball activities. On Monday, Nov. 8, the team will hold an open practice, and head coach Jeff Jones, top left, will discuss the upcoming season. After the faculty-staff game on the 10th the Eagles will be introduced and take part in exhibitions, demonstrations, and contests that will include students. Faculty and staff are invited to stay for a barbecue.

The classic promises to be a competitive game. Jones and AU women's coach Matt Corkery, top right, will serve as honorary coaches, while Provost Scott Bass and School of International Service dean Lou Goodman will actually coach the faculty. Vice President of Campus Life Gail Hanson will direct the staff squad. Here's hoping all those academics are in shape: the game will be a full 40 minutes.

"I am a basketball fan, but not a player," Goodman said. "As far as sports go, baseball and the Giants are my real passion. I am involved because I think that sports are a good way to promote out of the classroom student-faculty interaction and I want to support Keith Gill's good idea."

Admission to both the Faculty and Staff Classic and American Madness, which is scheduled for 7 p.m. on the 10th, is free. Both will be held at Bender Arena.

Field Hockey Blasts Bucknell

Bucknell proved to be no problem for the AU field hockey team. After crushing the Bison 6-0 on Saturday, the No. 7-ranked Eagles sit tied atop the Patriot League standings with a perfect 4-0 record.

The tie will be broken Saturday when AU hosts fellow unbeaten Lafayette at 11 a.m. at Jacobs Field. The winner will be the league's regular season champion and will host the conference tournament Nov. 5–6.