International
LeVan Studies Reaction to AFRICOM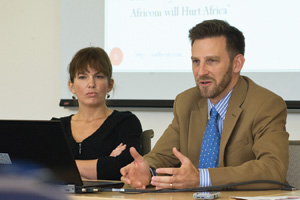 After seven years working on Capitol Hill, Carl LeVan decided that he wanted to become a professor. To prepare himself for academia, he sought a job in the field, soon landing one working for the National Democratic Institute in Nigeria.

A passion for Africa was born.

When the United States military announced in 2007 that it was creating an African Command (AFRICOM), the continent immediately and strongly pushed back against it. LeVan knew he had to look deeper.

The School of International Service professor's paper, "The Political Economy of African Responses to the U.S. Africa Command," will be published in the next edition of Africa Today. He recently spoke about it with American Today.

Q: What was the central question your paper set out to answer?

A: I wanted to look at how recent economic growth had impacted the opinions that were forming in different African countries. Growth in the 1990s in sub-Sahara Africa was negative. Over the last 10 years, among a sizable group of countries, we've seen meaningful economic progress. I wanted to look at how this impacted the way Africans react to foreign policy from abroad. Has this changed the way they perceive their relations with the outside world by empowering them?

Q: Can you briefly explain your methodology?

A: I used a content analysis, and in many ways I think the methodology was an outgrowth of all the best assets of doing research here at American University. I was fortunate enough to have a brilliant research assistant [Jillian Emerson] who undertook the work of both familiarizing herself with the software and carrying out coding of what people actually said in these articles, in order to characterize their opinions.

It took about six months to get through all the newspaper articles, figure out what they meant, and interpret the results.

Q: How many articles did you end up using?

A: There were about 500 responses [506 print and radio reports from 28 countries]. It could have been larger, except we made decisions to eliminate foreign news sources. For example, Associated Press and New York Times were eliminated from the sample. It's not only a look at African opinion, but it's a look at African opinion specifically within African sources. This is exciting because 20 years ago it would have been virtually impossible to do this. African studies is at this breakthrough point, and I'm part of the generation of researchers who's trying to figure out how to make use of new data.

Q: What do you consider to be the paper's most fascinating finding?

A: Countries that are doing well economically without significant levels of foreign aid, appear to formulate more independent foreign policies. This will probably create avenues to future research because so much political science in the last 20 years has been focused on the causes of economic growth. I wanted to flip that around and say, now that we have some economic growth in more than a few countries, why don't we think about what the effects are.

Q: Have you studied or thought about why these countries oppose AFRICOM?

A: Other research has looked at that. I wanted to focus on the patterns of public opinion. Some of the criticisms center on concern about foreign presence. That immediately was countered by U.S. officials as overstated. Even before the formal creation of AFRICOM the Senate Foreign Relations Committee had documented a dramatic increase across the continent in defense presence within embassies. Often this clashed with the goals and policies of the embassy officials.

Another source of concern lies in the expansion of missions, including humanitarian operations. The kind of work that has traditionally been carried out by USAID or nongovernmental organizations. That I think is of particular interest to American University students because they often want to work for those organizations. This poses interesting practical questions for them. If I'm going to go to Liberia and dig a well, what's it going to mean if last month the team that was here building a road to get to the well was wearing uniforms? That has implications for how Americans are perceived on the ground.

Q: What are you interested in studying moving forward?

A: I've always been interested in the nexus between development and security. I'm interested in looking at what the range of new missions might mean for military relations in these fragile democracies, and also what they mean for intragovernmental relations. What do they mean for relations between the executive branch and the legislative branch in these countries, especially if at the ministerial level you have countries that are eager to strengthen ties or deepen security relationships. Having run a legislative training program in an African country for a NGO, I'm concerned about how that might disrupt the balance of politics.