Journalism
Taking the Pulse of Young Voters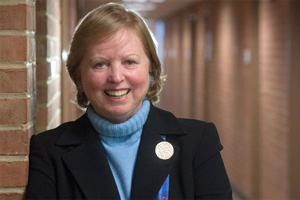 If it's approaching election time, executive in residence Dotty Lynch's students must be in the thick of things.
Graduate students in the School of Communication's Research Methods in Communication course released a report earlier this month on young people and the midterm elections.
Using data from a CBS–New York Times poll conducted Sept. 10 to 14, the students analyzed the perspectives of young people, defined as ages 18 to 29.

They found "young people's engagement and interest in the election is lacking when compared to other age groups, and, in addition, they mostly diverge with other age groups on issues from big government to opinions of Barack Obama and Sarah Palin."

President Obama's overall job rating fell among young people from 64 percent last year to 56 percent. His disapproval rating climbed from 23 to 35 percent.

Sixty percent of young voters surveyed said the economy and jobs are the biggest problems facing the country today, yet only 47 percent approve of the way Obama is handling the issues. Still, 54 percent think the president is doing more than Republicans in Congress to improve the economy.

Young people seem to be split on how enthusiastic they are to vote in November, according to the report. Forty-eight percent are "more enthusiastic," while 39 percent are "less enthusiastic." Only 15 percent of young voters polled said they are paying a lot of attention to the midterms.

So what does it all mean?

"If the survey results are indeed an accurate reflection of the interest of young people in this election, I am not sure that young people will make much of an impact," said Megan Smith '11. "The number of young people registered to vote based on the poll is enough to draw this conclusion. However, being a young voter myself, I'd like to be a little more optimistic about the participation of my age group in the midterms. Analyzing the data and preparing the report definitely taught me the value and impact of public opinion. I can only hope that since the poll was taken young people have come to realize how high the stakes are in this election."

There's no one better to interpret the results than Lynch, a political consultant for CBS News and political writer for TheFiscalTimes.com. She was the CBS News senior political editor from 1985 to 2005, and currently is an on-air analyst for CBS Radio and a member of the CBS News Election Decision Desk.

"I think what we're still seeing right now is that there will be a lower turnout of young people than there was not only in 2008 but 2006," she said. "That could be quite detrimental to the Democrats. [Young people] voted so strongly for Obama in 2008 and for Democratic congressional candidates in 2006, if they don't come out and vote for Democrats, it could be decisive."

While Lynch will spend election day at CBS News headquarters in New York, undergraduate students in her Public Communication Research class will be conducting exit polling at precincts in Washington, Maryland, and Virginia. They will use questionnaires based on those developed by the Media Consortium (CBS, NBC, ABC, Fox, AP), then will write an analysis of the results and assess how the methodology worked.