Law
Legal Scholars, Students Set Sights on Guantanamo Bay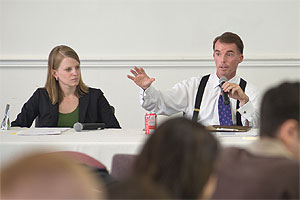 Gitmo, which currently houses 176 detainees, was the topic of the week, as legal scholars and law students debated the merits of military commissions and civilian courts during two events across campus.

On Sept. 15, Mike Orlando and Charlie Fowler, both third-year students at the Washington College of Law (WCL), shared their experiences as official nonmilitary observers. The two traveled to Guantanamo Bay to observe court proceedings this summer as part of WCL's National Institute of Military Justice (NIMJ), which focuses on the fair administration of military justice, including detainee law.

Orlando and Fowler both spoke of "a flawed system of justice" marred by a lack of transparency and information and wasted resources. For example, all court personnel, including judges and lawyers, fly from Andrews Air Force Base in Maryland to Cuba for every single proceeding.

"We were there for four days for a hearing that was one hour and four minutes long," said Orlando, whose story will be published, along with Fowler's, by NIMJ in October. "That kind of inefficiency translates to issues around the right to a speedy trial."

An army officer, Fowler traveled to Gitmo in July to watch Ibrahim al Qosi enter a plea agreement. A former cook for Osama bin Laden's entourage in Afghanistan, al Qosi pleaded guilty to conspiracy and material support for terrorism.

"I was there to watch a guilty plea, which took a day," said Fowler. "Being in the military, you're used to people spending a lot of money for nothing.

"At face value, the system looks just because it's modeled after the court martial system . . . but there's a total lack of precedent and a lack of clarity," he continued. "There's no guarantee of a speedy trial."

Fowler and Orlando's concerns were echoed by Devon Chaffee, advocacy counsel, Human Rights First, who spoke Sept. 16 as part of the Kay Spiritual Life Center's Table Talk Lunch Series, "Gitmo Detainees: Military Commissions vs. Civilian Courts."

Chafee and Human Rights First's support of civilian courts is threefold: they have a proven track record; they boast worldwide legitimacy; and they promote our national security interests by delegitimizing terrorism suspects.

"It's time to cut our loses with regard to military commissions and go with the system that's been making progress since 9/11," said Chaffee, noting that civilian courts have seen 400 convictions since the Sept. 11 terrorist attacks, while the military commissions have only seen four.

On the other side of the debate, Charles Stimson, senior legal fellow, Heritage Foundation, argued for military commissions, claiming they are "constitutional, fair, and comply with international law."

"The broad characterization that military commission rules are unfair is empirically false," he said. "The rules are fairer in commissions than international tribunals."

Stimson added that President Obama needs to commit more resources—including experienced prosecutors—to ensure the success of commissions.