Arts
Arty Party Draws Hundreds to Katzen's Fifth Anniversary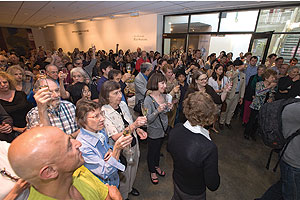 More than 750 revelers raised a glass to the Katzen, Sept. 11, as American University's arts center celebrated its fifth anniversary.

After sipping champagne and nibbling cake, the partygoers—including AU president Neil Kerwin, College of Arts and Sciences dean Peter Starr, and philanthropist and artist Myrtle Katzen—perused the new exhibits.

The AU Museum's fall exhibitions are very AU-centric. Luciano Penay: Time, News, Paintings, and Natural Forms features large-scale paintings and collages by the professor emeritus, who taught several generations of AU art students. Re-Vision showcases works by 61 fine arts alumni, including Katzen and others who studied with Penay.

The gala also marked the opening of BG Muhn: Love Affair of the Empress, a series of portraits of mythical Chinese empresses, and Alan Binstock: Way-stations in the sculpture garden.

The Binstock and alumni exhibitions run through Oct. 24, while the Muhn and Penay shows close Oct. 17.

The Sept. 11 event also marked the launch of the AU Museum's new membership program. Members are invited to attend exhibition openings and museum events, meet artists, and enjoy a discount at the museum store. Prices start at $15 for students, $45 for individuals, and $85 for families.

For more info: american.edu/cas/museum.