International
SIS Conference Explores Global Governance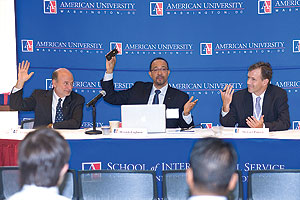 What is governance? Who governs? What needs governing?

Scholars and practitioners tackled those deceptively simple questions during Global Governance in the 21st Century, Sept. 24-25 at the School of International Service (SIS). The first academic conference held in the new SIS building, the event drew more than 100 attendees from across town and around the world.

But before the 17 panelists reflected on the who, what, and why of global governance, conference organizer Tamar Gutner offered an introduction to the topic.

"Existing institutional frameworks can't keep pace with current global challenges" such as climate change, financial instability, and transnational security threats, explained Gutner, director of SIS's International Politics and International Economic Relations program. "Global governance has to do with collective arrangements to solve global problems… using a variety of actors," including states, civil society, the private sector, and international organizations.

In many cases, the traditional major powers are following, rather than leading the process of change. And while the diffusion of power can be risky, it also allows for innovation, tapping the resources of new, rising powers to address challenges that transcend borders.

SIS professor and panelist Derrick Cogburn framed global governance as a "grand challenge: a significant problem facing society that requires the galvanization of a specific or interdisciplinary research community to solve."

As director of the Center for Research on Collaboratories and Technology Enhanced Learning—a joint social science research center in SIS and the School of Information Studies at Syracuse University—some of Cogburn's work focuses on improving the cyber infrastructure to enable participation in global governance by various stakeholders.

"Diverse actors must be partners—not pawns—in international regime formation," he said during the conference's first session, Sept. 24. Technology, he added, can enable and empower a wider array of actors to address worldwide threats and challenges, from cyber crime and terrorism to global health and the environment.

According to Stewart Patrick of the Council on Foreign Relations, global governance is garnering increased attention among academics and policymakers for four key reasons: the rise of a new global agenda; the proliferation of non-state actors, both benign and malevolent; the decline of U.S. and broader western hegemony; and the increasing connectedness of international society.

Patrick, director of the Program on International Institutions and Global Governance, added that, while global governance has its advantages—competition among actors ups everyone's game, for example—it also has its challenges, including the duplication of efforts, questions of legitimacy, and "the weakening of issues as they migrate from powerful to less powerful actors."

After traversing the who, what, and how of global governance, the SIS conference wrapped up Sept. 25 with a discussion on what governance will look like in 2030. SIS professor Amitav Acharya, director of AU's ASEAN Studies Center, plans to publish an article based on the conference later this year.