International
AU Ranks No. 5 in Nation for Study Abroad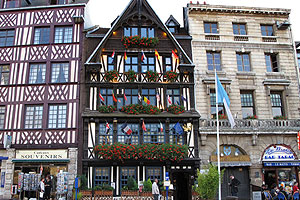 Despite the floundering economy, American University students are still studying abroad in droves, according to a new study by the Institute of International Education (IIE). The "Open Doors 2010" report estimates that 59.8 percent of AU students study abroad.
AU ranked fifth among doctoral institutions, with 828 undergraduates studying abroad during the 2008–09 academic year, the peak of the recession. While participation among AU students remained steady that year, IIE's "Open Doors" report indicates the total number of American students abroad decreased by 0.8 percent to 260,327.
The dip is modest but historic, as it's the first time in 25 years that study abroad participation has declined.
According to Sara Dumont, AU Abroad director, the university didn't see an increase in 2008 because many students chose to stay in Washington for the general election. Participation in AU Abroad, which offers 145 programs around the world, increased in 2009–10, and enrollment is on the rise again this academic year.
Unlike other colleges and universities, Dumont said studying abroad isn't cost prohibitive for AU students, who still receive financial aid and scholarships, whether they're in Washington or Wollongong.
"When students study abroad, they continue to be fully registered at AU and pay AU tuition," she explained. "If they can afford to be here, they can study abroad.
"AU has a long history of sending students to study abroad; it's very much a part of our institutional culture," Dumont continued.
AU graduate students also fared well in the report, released Nov. 15. Twenty-six percent of the university's study abroad population is composed of grad students, compared to the national average of 5.6 percent. In the School of International Service, that figure is even higher, at 40 percent.

According to IIE's report, compiled from surveys from 700 institutions, the top four destinations—Britain, Italy, Spain, and France—remained the same but, unlike last year, all saw decreases in U.S. enrollment. China was the only country in the top five to see an increase of 3.9 percent.
The "Open Doors" report also measures international student enrollment, which continued to rise in 2009–10, despite the shaky economy. A record 690,923 international students studied in the United States—a 2.9 percent increase over the previous year. China overtook India as the country sending the most students to the United States; South Korea, Canada, and Taiwan round out the top five.
"Open Doors" is published annually by IIE with funding from the U.S. Department of State's Bureau of Educational and Cultural Affairs.