In the Community
AU Hosts Tennis Royalty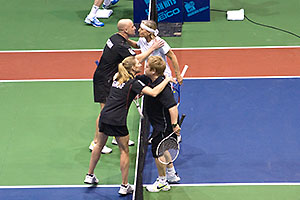 Bender Arena has played host to presidents, senators, four-star generals, and more world-class athletes in its 22 years than any one person can remember.
But never before had a collection of such tennis greatness—hosted by one of the best-selling musicians of all-time—graced American University's gym.
For 18 years Sir Elton John (move 250 million albums and knighthood follows) and tennis legend Billie Jean King have staged World Team Tennis's Smash Hits to benefit John's AIDS Foundation. This year they enlisted Andre Agassi, Steffi Graf, Martina Navratilova, and Anna Kournikova, among others, for a night of fund raising, and flat-out fun on the court.
What court? For the first time in history, crews assembled a tennis court atop the Bender Arena floor. A sold-out crowd of 3,017 watched five sets of mildly intense, sometimes brilliant, and often beautiful tennis played by virtuosos who combined for 89 major titles during their illustrious careers.  

This was the first time John and King chose to take their show to Washington, and AU aced Georgetown and George Washington for hosting duties.
"They came to us in May or June of last year and asked if we'd be interested," said Jordan Tobin, AU's director of facilities and operations. "I'm a tennis fanatic, and I thought to do a tennis match in the arena for the first time ever would be fun. Everyone across campus supported it. We did a good thing for a good organization and it's brought a ton of [publicity] to the university. To have these kinds of athletes and celebrities for a night of fun was essentially a once-in-a-lifetime experience."
The decision to bring Smash Hits to Washington was a calculated one. The city has an HIV infection rate 12 times the national average.
"It's the worst [city] in America for HIV/AIDS at the moment," John said during a pre-event press conference at the Palmer-Kettler Lounge. "The money raised tonight will be going into the Washington area. We don't go blindly from city to city, we try and go to places where there is a problem. There is a massive problem here. We're here today to try and alleviate some of that problem by raising money and sending it back into the community."
And raise money they did. An auction in the Mary Graydon Center brought in $276,000, half of which will go to the Washington AIDS Partnership. The top-ticket item was an hour-long tennis lesson for two in Las Vegas with husband and wife Agassi and Graf, which sold for $50,000.
Agassi enticed bidders for a gold- and diamond-encrusted watch specially made for him to honor his eight Grand Slam singles titles by sweetening the pot.
"I'll sign it for you personally — and you can kiss my wife," he said.
That brought laughter from the crowd, a smile from Graf, and a winning $16,000 bid.
Overall the event raised about $500,000, bringing its 18-year total to more than $10 million.
After the checkbooks were safely stowed and the crowd made its way into the arena, the players treated the fans to a sensational show of shot-making and serving.
Even Elton John played decently. Paired with Navratilova for the opening celebrity doubles match, the singer held his own against Agassi and Graf. In the end, however, Team Billie Jean (Navratilova, Mark Philippoussis, Rennae Stubbs, and Eric Butorac) defeated Team Elton, 19-15.
While the result netted the all-time series at 9-9, everyone involved through the years has won.
Smash Hits will be televised on the Tennis Channel on November 29 at 8 p.m., and on Comcast SportsNet on December 7 at 7 p.m.