On Campus
A Message from President Neil Kerwin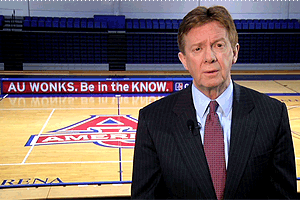 With the fall semester in its last weeks, President Neil Kerwin decided to share some important things happening on campus in a new video.
The piece touches on several topics, including:
the strength of the Class of 2014
AU's scores on the National Survey of Student Engagement
student-athletes' success both in the classroom and on the field
the success of the All-American Weekend and AnewAU campaign
So please click and enjoy the flick.

Go Eagles!