Research
Scholars in Ink: Kogod School of Business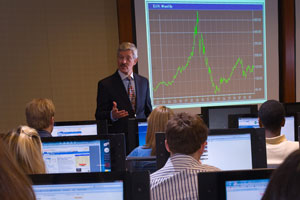 Putting pen to paper—or fingertip to key—is one of the most fundamental responsibilities of a university professor. American University's faculty are a prolific bunch. Each year they publish dozens and dozens of papers, chapters, and full books on subjects ranging from history to economics to the law.  Faculty publications in 2010 include:

Corporate Governance—A Synthesis of Theory, Research, and Practice
Edited by H. Kent Baker and Ronald Anderson, Kogod School of Business
"The importance of corporate governance became dramatically clear at the beginning of the twenty-first century as a series of corporate meltdowns from managerial fraud, misconduct, and negligence caused a massive loss of shareholder wealth. But despite the heightened attention on corporate governance practices, many questions still exist," Baker says.
Written by an array of corporate governance experts, the contributed chapters of this book offer multiple perspectives, including:

a brief history of corporate governance, which details the relationship between corporate governance and firm performance and discusses the separation of ownership and control
an examination of the various aspects of internal governance including the role of the board of directors, as well as a review of the importance of compensation, equity ownership structure, and turnover as internal control mechanisms
an exploration of numerous external governance devices from non-executive to non-equity shareholders, and the role that accounting, legal, and regulatory intervention play —MU