Athletics
Men's Basketball Team Off to Undefeated Start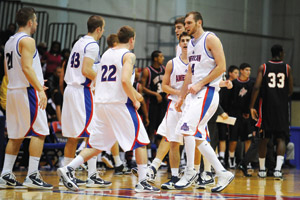 Ask Jeff Jones about the first ever 3-0 start in his decade coaching the AU men's basketball team, and for a second you think you might accidentally have said "0-3."
"I think we've at times been really good defensively, the problem as I see it is we're not good enough defensively consistently enough," Jones said last week, before his team beat Florida Atlantic to go to 4-0. "At times we've been good on the boards, but we're not consistently good on the boards. I think the big thing that we must really emphasize is, offensively, I don't think we've played with much of a rhythm. We've got to start doing a better job in that regard."
Digesting the game through that critical prism that has enabled Jones to become AU's all-time winningest coach and position the Eagles as the Patriot League's most-consistent program in the past 10 years. The Eagles have won four Patriot League regular season titles and made back-to-back NCAA Tournament appearances in 2008 and 2009.
Jones has another great shot to go dancing again this year. AU was named the Patriot League's preseason favorite in the closest-ever vote of conference coaches and sports information directors.
Senior Vlad Moldoveanu is a major reason for the lofty expectations. The preseason Patriot League Player of the Year, Moldoveanu led AU with 24 points in the season-opening win over St. Francis, and poured in 31 in a victory over the University of Maryland–Eastern Shore.
"The versatility he has makes him, if not unique, then certainly rare," Jones said. "He can score inside, he can shoot the three, and he's a very good passer. He's a very hungry player. He's not the big ra-ra guy, but anybody who is close to the program knows how many hours he spends in the gym outside of practice. He really wants to be the best player he can be. If anything I've got to keep him out of the gym so he doesn't wear himself down."
AU's two other seniors, Steve Luptak and Nick Hendra, also are key players this year. Luptak won the point guard job and has done "everything we've asked of him" in a leadership role, Jones said.
"Nick is right now playing the best basketball of his career," Jones said. "He's been tremendously focused. He's brought tremendous energy. He may be our most consistent player to this point. That doesn't always show in stats. He's really committed himself to becoming a better defender. He's always been a good rebounder. He's our leading assist guy. We're hoping that Nick can kind of stay on that nice upward arc."
To a coach—especially one like Jones—a team is a constant work in progress, and his needs to do a better job of understanding the many nuances of the game, like setting and using screens.
"It's first recognizing and then embracing the little things," he said. "We've got to play with a great deal of intensity and focus all the time. That might sound like generic coach-speak, but while we have some talent, we're not the most talented. By playing hard all the time, that gives us a chance and can separate us from other teams. What I'm harping on all the time, and I'm sure they're sick of hearing it but they're going to keep hearing it, is that the little things add up. Nothing is unimportant. That's the mentality we're striving for. We're definitely not there."
AU's track record of success over the past decade is incontrovertible and suggests that by March Jones will have his team just where he wants it to be.