Business
Kogod Alum Talks Business of Health Care at Meltzer Series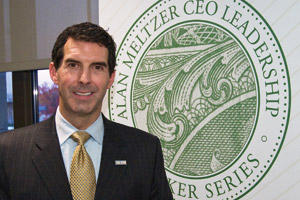 Paul Diaz, one of the 100 "most powerful people in health care" according to Modern Healthcare magazine, returned to his alma mater, November 17, to talk about the business of health.
Diaz, Kogod '84, president and CEO of Kindred Healthcare, spoke as part of Kogod's Alan Meltzer CEO Leadership Speaker Series.
Diaz emphasized that health care is a people-centric field: "When we talk about things at Kindred," he said, "the conversation centers around people and quality outcomes . . . If you focus on your people, focus on quality outcomes, and do that in a transparent way, business outcomes will follow."
A Fortune 500 company, Kindred operates long-term acute care hospitals, nursing facilities, and contract rehabilitation centers in more than 600 locations across the country.
The Alan Meltzer CEO Leadership Series continues March 23, with Richard Clark, chairman and CEO of Merck.