Research
Scholars in Ink: College of Arts and Sciences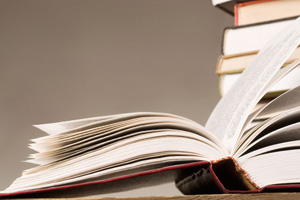 Putting pen to paper — or fingertip to key — is one of the most fundamental responsibilities of a university professor. American University's faculty are a prolific bunch. Each year they publish dozens and dozens of papers, chapters, and full books on subjects ranging from history to economics to the law. Faculty publications in 2010 include:
Brunelleschi's Egg: Nature, Art, and Gender in Renaissance Italy
By Mary Garrard, professor emerita, Department of Art, College of Arts and Sciences
During the Italian Renaissance, the profound shift in concepts of nature—from an organic worldview to the scientific—was assisted by the gender metaphor that defined nature as female. In her new book, pioneering feminist art historian Garrard proposes this shift was both anticipated and mediated by the visual arts.
Through case studies of Botticelli, Giorgione, Michelangelo, and more, Garrard offers a new narrative in which the suppressed feminine is given its voice in Renaissance art histories.

Brunelleschi's Egg, which is beautifully illustrated with 241 images, is Garrard's third book. Along with her longtime collaborator and CAS professor Norma Broude, Garrard also has edited four volumes of feminist essays used in university classrooms around the world. Earlier this month, the Department of Art hosted the first annual feminist art conference celebrating the accomplishments of Garrard and Broude.

Measuring America: How Economic Growth Came to Define American Greatness in the Late Twentieth Century
By Andrew Yarrow, Department of History, College of Arts and Sciences
Historian Yarrow tackles two questions in Measuring America: Why do Americans place such importance on economic indicators in evaluating their country? How have Americans' values been shaped by economic statistics and concepts during the last 70 years?
The former New York Times reporter offers two parallel, interlocking stories: how economic ideas came to have vastly greater influence on American culture after World War II and how those ideas dovetailed with a growing belief that the meaning and value of the United States resides in its measurable economic performance output.
A Baltimore Sun columnist, Yarrow is also author of Forgive Us Our Debts: The Intergenerational Dangers of Fiscal Irresponsibility.
"Information Technology and Economic Change: The Impact of the Printing Press," by Jeremiah Dittmar, The Quarterly Journal of Economics
Faculty books are proof (as if we need it) of the revolutionary impact the printing press has had on mankind. But what has its economic impact been?
Dittmar, economics professor in the College of Arts and Sciences, examines that in his paper, "Information Technology and Economic Change: The Impact of the Printing Press." 
"The movable type printing press was the great innovation in early modern information technology and provides the closest historical parallel to the emergence of the Internet. Historians suggest the printing press was one of the most revolutionary inventions in human history. However, economists have found no evidence of its impact in measures of aggregate productivity or per capita income. The historical data thus present us with a puzzle analogous to the famous Solow computer productivity paradox—the fact that, until the mid-1990s, data on macroeconomic productivity showed no effect of innovations in computer-based information technology.
"My research examines the technology from a new perspective by analyzing city-level data on the diffusion of print media. The research documents how the great pre-Internet revolution in information technology transformed the economic geography of Europe. In particular, I find that cities that adopted printing in the late 1400s had no prior growth advantage, but subsequently grew far faster than otherwise similar cities that did not. By transforming the way ideas were stored and circulated, print media revolutionized the economic landscape of Renaissance Europe and accounted for at least one-fifth of overall city growth 1500–1600."