Research
Scholars in Ink: School of Public Affairs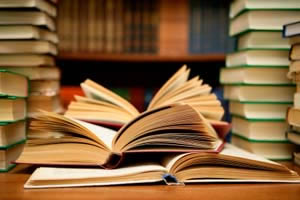 Putting pen to paper — or fingertip to key — is one of the most fundamental responsibilities of a university professor. American University's faculty are a prolific bunch. Each year they publish dozens and dozens of papers, chapters, and full books on subjects ranging from history to economics to the law. Faculty publications in 2010 include:

What Do We Expect From Our Government?
Edited by Beryl Radin, scholar in residence, School of Public Affairs, and Joshua Chanin, SPA doctoral student
Based on a series of commissioned papers and discussions that marked SPA's 75th anniversary in March 2009, the book provides policy and historical context for the question of what we expect from government in papers from James Roosevelt Jr., David Walker, and Peter Edelman. Policy debates are the focus of papers by Daniel Fiorino (SPA), Gary LaFree, and Guillermina Jasso. Process is the subject of papers by Walter Oleszek (adjunct professor, SPA), David Dulio, and Rick Melberth. The papers explore seven themes, including the role of government, the role of the academy, and dealing with uncertainty and change. Both the book and the conference involved all three SPA departments as well as PhD students.
SPA dean William LeoGrande notes in the book's foreword, "As we thought about a theme for the conference, we wanted it to reflect the school's special character — our commitment to advancing knowledge through scholarship, and by so doing, to contribute to solving the great public policy problems of the day. Seventy-five years ago, President Franklin D. Roosevelt captured the idea perfectly when he came to American University and applauded our newly founded school for its mission of 'practical idealism.'"

Q: How was the conference that the book was based on organized?

A: Each of the three departments in [the School of Public Affairs] were given two sessions and they could define what they wanted them to be. So it was trying to figure out some things that cut across [SPA], because they're really three very disparate departments that have quite different cultures.

Q: A lot has happened in the political world since the conference. But the topics covered in the book are still timely, aren't they?

A: Yes, they are. The introductory essay ["The FDR Legacy: Yesterday and Today," by James Roosevelt Jr.] sets the framework. So there were two things we thought were kind of general issues: the role of government and then how universities and researchers are involved in that. And then we had all these points. And one of the questions was how much of this is new and how much of it is replaying the same old issues. You can kind of see in each of the essays that they dealt with those issues in different ways.

Q: What would you like policy makers and academics to take away after reading the book?

A: [The book shows] that there are opportunities to make the bridge between the academy and the decision-making world . . . [It's] really trying to encourage people in the academy to look beyond the academy. But I think that's also in the tradition of AU, to try to see how we relate to the world.
Gender and Women's Leadership: A Reference Handbook
Edited by Karen O' Connor, Distinguished Professor, School of Public Affairs
An expert on women and politics, SPA's Karen O'Connor edited a comprehensive 1,104-page, two-volume reference set that includes 101 essays on theories of leadership, the history of women's leadership, and actual women's leadership in various contexts: academic, sports, media, public policy, women's health, religious organizations, and business.
Part of the SAGE Reference Series on Leadership, the set includes chapters by 15 AU faculty, students, and alumni, including:
Mary Gray, CAS, on women's leadership in mathematics
Gemma Puglisi, SOC, on women's leadership in television news.
O'Connor on the history of women leaders and social movements and women as leaders in lesbian organizations

Criminologists on Terrorism and Homeland Security
Edited by Brian Forst, School of Public Affairs; Jack Greene, Northeastern University; and James Lynch, John Jay College of Criminal Justice
Aimed at students and scholars interested in policing, prosecution, adjudication, sentencing, and restorative justice, this collection of 19 essays features chapters on the prevention of terrorism, community policing and homeland security, gangs and terrorist cells, and more.
The book includes chapters by SPA professors:

Rita Simon on women, crime, and terrorism
Joanne Savage with an ecological perspective of terrorism
Forst on managing the fear of terrorism and research issues surrounding criminal justice and terrorism 

The Oxford Handbook of American Bureaucracy
Edited by Robert Durant, School of Public Affairs
This reference book for public administration scholars and graduate students assesses the state of American bureaucracy at the end of the first decade of the twenty-first century and includes expert opinions on where it's headed in the future.
Part of The Oxford Handbooks of American Politics series, its 33 essays include:

a chapter coauthored by AU president Neil Kerwin on interest groups, rulemaking, and American bureaucracy
Durant's "Herbert Hoover's Revenge: Politics, policy, and administrative reform movements"
Durant has authored several other books, including The Greening of the U.S. Military and The Administrative Presidency Revisited. His work has garnered seven industry awards.


Freedom of Expression in a Diverse World: The Philosophical Foundations of Law and Justice
Edited by Deirdre Golash, School of Public Affairs.
The debate over the boundaries of free speech took on a new shape in the 1980s when feminists began to advocate restrictions on pornography and critical race theorists pushed for the restriction of certain kinds of hate speech.
Today, we face even broader challenges resulting from the rapid dissemination of information across international borders in the midst of political tension.

Freedom of a Diverse World explores why we value freedom of speech and expression and how this freedom can be weighed against other values like multicultural sensitivity, the rights of racial and sexual minorities, and the prevention of violence.
The book features 14 essays on such topics as hate speech, the pledge of allegiance, and sexually harassing speech in the classroom.