International
Cuban Scholar: 'Poverty, Privilege Exist Side by Side'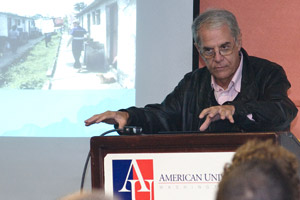 While Americans face record foreclosures, Cubans are wrestling with a housing crisis of their own.
The capital city of Havana, home to 2.1 million people, has become "a place to live but not a place for living," said Miguel Coyula, an architect, urban planner, and professor at the University of Havana. "It's easy to own a house in Cuba, but to maintain it is very difficult."
Coyula, whose scholarship has chronicled the history of Cuban architecture since the Colonial Era, spoke at American University, November 16. The lecture was sponsored by the newly-formed Comparative Urban Research Initiative (CURi), a collective of AU faculty with a shared curiosity about cities, and the Center for Democracy in the Americas, a Washington-based think tank.
Thanks to government subsidies, home ownership in Havana is extremely high — about 87 percent — Coyula said. However, because the average house is 75 years old and maintenance subsidies are nonexistent, many residents' homes are in great disrepair, some live in squalor.
And once their homes become uninhabitable, residents are shipped off to temporary shelters, which adds to the city's poorly-maintained housing stock. About 118,564 people are currently waiting for transitional housing.
"It's a vicious cycle," Coyula said. "People aren't living under a bridge, but the shelters are absorbing urban land rather than urbanizing land."
But for many working people — even doctors and academics — home repairs are simply too costly. For example, a sack of cement can eat up 55 percent of the average worker's monthly salary, while one window costs 1,250 percent of his paycheck.
"This means you must decide whether to eat or to paint," Coyula said. He added that his own 1,500-square-foot home cost $700, but he faces $1,500 in repairs — "and it's a new house."
"The Cuban construction industry is in the stone age and building materials are scarce," he continued. "We import a high percentage of materials, which are only available for hard currency."
The problem is exacerbated by huge income disparities — often the result of remittances from the United States and other countries. According to Coyula, it's not uncommon for "poverty and privilege to exist side by side" in Havana neighborhoods.
Coyula advocates several solutions:

The adoption of more affordable and innovative green building practices.
Legislation that will create subsidies to help people maintain their homes.
The development of design rules to preserve Havana's architectural history.
An educational campaign to spread the word about resources and practices.
"If you want a better city, you need better citizens," he said.
Among the audience members at the lecture was School of International Service professor and CURi founder Daniel Esser. He said Coyula's talk underscored the interdisciplinary nature of urban studies.
"We need sociologists, political scientists, planners, anthropologists, and economists to fully appreciate the Herculean task that Miguel and his colleagues are facing in order to prevent the city and its residents from facing even greater vulnerability in the near future," he said.
Next up for CURi, said Esser, is a symposium exploring policies to promote socioeconomic inclusion in Washington, tentatively slated for early 2011.
"It's hoped that such activities increase AU's visibility in the policy community in an area, which, amid acute economic stress and changing demographics, has garnered heightened attention," he said. "CURi's central aim is to nurture interdisciplinary research, which then informs the agendas of practitioners."