On Campus
Kerwin Encourages Community Input in Strategic Plan Update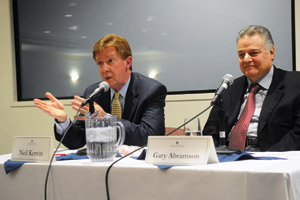 The sciences—biology, chemistry, and physics—will change the face of the university over the next decade according to AU president Neil Kerwin, who addressed the campus community, November 18.
Kerwin, who was joined by AU Board of Trustees chairman Gary Abramson for the fall open forum, said there "are serious conversations going on to ensure the sciences play a larger role in the life of the institution." And while he admitted the science labs need overhauling, "the intellectual firepower students and faculty bring to the sciences is undeniable."
Kerwin also said the university plans to expand the environmental science program and begin exploring a public health curriculum.
During the hour-long town hall, he addressed a variety of student concerns, from the use of bottled water at university events to the cancellation of the atrium music series. He encouraged students, faculty, and staff to continue to offer their opinions and suggestions as AU updates its strategic plan.
"If there are things you think the institution can do to improve its performance, make your voice heard. We take input from the community very seriously."
A draft set of objectives will be released in early 2011. The campus community can submit their ideas through the faculty senate, staff council, or via the strategic plan Web site.