Journalism
Williams Firing In Focus During Reel Journalism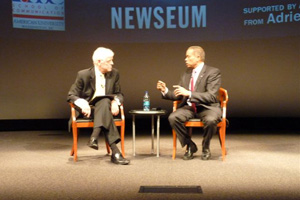 Juan Williams wouldn't change what he said about Muslims that led to his firing from NPR, but says he is "still pretty steamed" about the fallout.
"I said what I meant," Williams said Dec. 9 at an event co-sponsored by American University. Williams was referring to comments he made in October on Fox's Bill O'Reilly that he gets nervous if he is on a plane with people in Muslim garb who identify themselves as Muslims. He said he was making the point that "we can't be guided by such emotional feelings. We have to guard against intolerance."
Williams comments were in response to questions by Nick Clooney, host of "Reel Journalism," a series of journalism movies and discussions co-sponsored by AU's School of Communication and the Newseum.
While the discussion eventually turned to the night's movie, The Pelican Brief, Clooney started by saying he had to first ask about Williams' firing, which he termed "the elephant in the room."
"What's it like to be the story?" Clooney asked Williams, who is a Fox commentator. "It's a bit of shock," Williams responded, adding he was dismayed by the amount of coverage it received and both gratified and disappointed how he was treated by fellow journalists.
"I don't want to shock you," he told Clooney, "but I'm still pretty steamed about it. It's still too raw to give a dispassionate view."
Moving on to the movie, Williams revealed that its star, Denzel Washington, based his character on African-American reporters he met at the Washington Post before filming in 1992, including Williams. 
For one scene Washington asked to borrow a poster from Williams' office that advertised Eyes on the Prize, an award-winning documentary for which Williams wrote the accompanying book.
"So has anyone told you that you look like Denzel?" Clooney joked.  "Not yet," responded Williams.