Research
What's a Collaboratory?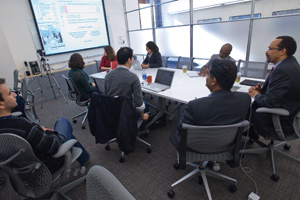 A collaboratory combines collaboration and laboratory. The National Science Foundation coined the term in the mid-1980s, SIS associate professor Derrick Cogburn explains. It was envisioned as a research center without walls. "The idea was you could enable the nation's researchers to collaborate on projects as if they were in the same physical center, but they could be anywhere in the country and subsequently anywhere in the world."
Unfortunately, the idea's promise has never quite been fulfilled. But the Center for Research on Collaboratories and Technology Enhanced Learning Communities, or Cotelco, a joint center of AU and Syracuse University, continues to explore ways collaboratories can be used to understand areas from cyberlearning to transnational nongovernmental organizations. Fifteen undergraduate and graduate students help conduct research at the center.
Want further explanation of the term? See Cogburn's definition on that highest-profile of online collaborative Web sites, Wikipedia.