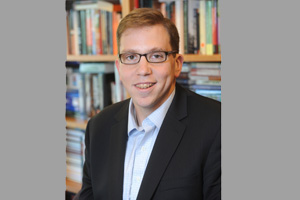 Like most other Thursdays, Dec. 16 was a work day for Stephen Vladeck. As usual, studying and speaking about the law would consume his time and focus. Vladeck wouldn't want it any other way.
But on this day the Washington College of Law professor's students would be a bit older. In a few hours he was scheduled to testify before the U.S. House of Representatives Committee on the Judiciary, which was diving into the white-hot world of WikiLeaks.
Vladeck woke up around 6:30, scarfed down a bowl of cereal and a banana, then put on a black suit with a blue shirt and silver tie. He left his downtown apartment and walked 10 minutes through the frigid Washington wind before descending into Metro Center. Unlike most mornings, he didn't board a Red Line train heading toward Tenleytown. He was an Orange/Blue Line passenger, destined for Capitol South.
A few minutes after 10 a.m. — late according to the schedule, early in the reality of how these things often unfold — Vladeck took a seat at a table with two men to his left and four to his right. All prepared to address the House Judiciary Committee.
Like several other American University professors considered experts in their fields, Vladeck often is asked to testify before Congress. It's an honor bestowed to only a minute percentage of elite academics nationwide, and Vladeck takes the responsibility seriously.
"Academics, especially academics who are in Washington, have an obligation to do what they can to render assistance to all branches of government," said Vladeck, who has appeared three times. "Testifying before Congress is a way of helping them. To the extent that having people like me get up there helps the members stir the pot, then we're doing our job."
The subject before Chairman John Conyers's (D-Mich.) committee this day was the Espionage Act and legal and constitutional issues raised by WikiLeaks. In the days following the Web site's publication of hundreds of classified cables from U.S. diplomats around the world, many in Congress wondered if the 93-year-old statute could be used to charge WikiLeaks' founder Julian Assange.
That's one question Vladeck was asked to help explore. As each witness read an opening statement, people filed in and out of room 2141 of the Rayburn House Office Building, just across Independence Avenue from the Capitol. Virtually everyone in the gallery was texting, tapping, or Tweeting away on their phone. A few dinosaurs jotted down notes using a pen and paper. At tables along the wall reporters pecked at their laptop keyboards, seldom glancing up.
Vladeck was the fifth to read his prepared text. As he spoke into a microphone, his image broadcast on two flatscreens hanging from each side wall, a few members of the committee might even have been paying attention.
"The first time it's disconcerting," he said of the fact that in many hearings the majority of people in the room generally don't seem as if they're listening. "What you get used to is the opening statements are really there for the record. One way to look at it is sometimes the same thing happens in the classroom."
His seven-minute statement focused on five flaws of the Espionage Act as currently written, and he offered suggestions on how to rectify them.
"The uncertainty surrounding the act's applicability in the present context impels action in one direction or another," he said. "It's been nearly four decades since a pair of Columbia Law School professors — Hal Edgar and Benno Schmidt—lamented that, 'the longer we looked [at the Espionage Act], the less we saw.' Instead, as they observed, 'we have lived since World War I in a state of benign indeterminacy about the rules of law governing defense secrets.' If anything, such benign indeterminacy has only become more pronounced in the 40 years since — and, if recent events are any indication, increasingly less benign.
"Thank you very much for the opportunity to testify before the committee today. I look forward to your questions."
Conyers, the 22-term legend sitting on the highest chair in the middle of the room, leaned forward.
"You've left us with some very big challenges Professor Vladeck," he said. "We appreciate it very much."
The final witness was Ralph Nader, whose testimony barreled through the time limit prompting at least one congressman to cut him off. Undeterred, Nader continued speaking over the loud objections of the member.
Following a recess for a procedural vote in the full House, a common occurrence during committee hearings, Vladeck and the other witnesses fielded 11 or 12 questions from the smattering of members present. Just before two, the proceedings were adjourned.
"There was a pretty good back and forth," Vladeck said of the question and answer session. "Our job when we're testifying is to be of use to the members, and I think we did that."