On Campus
Technology-Focused Teaching Conference Draws Record Crowd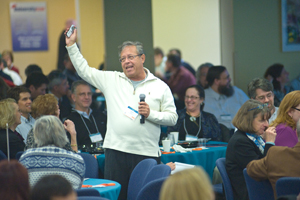 A record 400 faculty members—a 20 percent jump from last year—gathered for the 22nd annual Ann Ferren Teaching Conference, Jan. 7, to brush up on their craft before the start of the spring semester.
Sponsored by American University's Center for Teaching, Research, and Learning (CTRL), faculty led 30 workshops on such topics as: writing and research; grading; student disabilities; community-based learning; and teaching controversial issues. Many of the most popular sessions, according to Anna Olsson, CTRL manager for training and assessment, focused on technology.
"The Google Classroom," which explored applications for research and collaboration among students, drew a capacity crowd of 44. Faculty also turned out in numbers for a session on how to incorporate Twitter, Facebook, and other social media into the classroom, and trainings on Blackboard 9 and Wimba, a live, online classroom that works within Blackboard.
"The sessions are cross-disciplinary and apply to all professors, regardless of what we teach," explained Olsson. Right now, she said, faculty are very interested in harnessing technology in the classroom.
Workshops on more traditional topics—plagiarism or the merits of lectures versus discussions—also featured a technological component. Each session was videotaped and, for the first time ever, notes, handouts, and recommendations from all the workshops were posted on Blackboard.
"We wanted to make the conference more interactive so the conversations could continue beyond the day of the conference," said Olsson.
CTRL gave conversations a kick-start by giving each attendee two "trading cards" featuring a faculty member's name, photo, and research interests. When he or she found the professor pictured on the card, they received a certificate for lunch together. "The networking cards are a playful way to connect faculty from different departments," said Olsson.
David Sadker, AU professor emeritus of education, delivered the lunchtime keynote: "The Invisible Classroom: From Friedan to Einstein." An expert on gender inequality in education, Sadker's remarks, which highlighted strategies for reaching a diverse student community, also featured a technological component. Audience members responded to a series of questions using clickers, the answers to which were posted in real time on a screen at the front of the room.
According to Olsson, the clickers are increasingly popular teaching tools. Faculty can assign the clickers ($20-$30 through the bookstore) as required equipment and use them for in-class quizzes and tests. CTRL owns two sets of 50 clickers, which faculty may borrow.