Government & Politics
Wisconsin Rep. Baldwin Advocates for LGBT Rights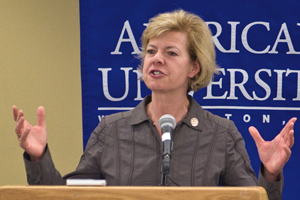 As a lesbian and aspiring politician, Tammy Baldwin faced a choice: embrace her homosexuality in an open and honest way or pursue a career in public service. She decided to do both.
In 1986, the Wisconsin native "gave an interview and told them I was a lesbian and that year, I was elected to my county board of supervisors, anyway," she said triumphantly before a packed house at the ninth annual R. Bruce Poynter Lecture, January 19. "It was terrifying, but it was also one of the most freeing things I'd ever done."
After 13 years on the Dane County Board of Supervisors and in the Wisconsin State Assembly, Baldwin became the first woman from Wisconsin, the first out lesbian, and the first openly-gay, nonincumbent elected to Congress. Baldwin, a Democrat from Wisconsin's second district, has served in the U.S. House of Representatives since 1999.
Now in her seventh term in the House, Baldwin is a leading champion of LGBT (lesbian, gay, bisexual, and transgender) rights. She led the successful effort to enact the Matthew Shepard Hate Crimes Act and repeal "Don't Ask, Don't Tell," which barred openly homosexual men and women from military service. She also founded and cochairs the Congressional LGBT Equality Caucus, which now boasts 91 members.
"Change comes by daring to dream of a world in which we live free," she said. "There is no 'eureka' moment, no easy solution, or elegant proof. It takes the constant application of pressure by people who often can't tell they're making a difference."
On the heels of recent advances for LGBT rights — including the Don't Ask, Don't Tell Repeal Act of 2010 — Baldwin, 48, said "we must seize this moment and ask how we can do better . . . in the ongoing quest to create a more perfect union." Next on her legislative agenda: the passage of a fully-inclusive employment nondiscrimination act, and the repeal of the 1996 Defense of Marriage Act.
Baldwin said she looks to a quote by anthropologist Margaret Mead, which sits on her desks in Wisconsin and on the Hill, for inspiration: "Never doubt that a small group of thoughtful, committed citizens can change the world. Indeed, it is the only thing that ever has."
"Each one of you, you are the thoughtful and committed citizens," Baldwin said to the crowd of more than 100, "and this is how we change the world."
Named for former University Chaplain R. Bruce Poynter, who served the AU community for 16 years, the lecture is delivered every year by someone who exemplifies the highest ideals of justice and compassion for a world in travail. Past speakers have included civil rights activist and comedian Dick Gregory and Marian Wright Edelman, founder of the Children's Defense Fund.
During the event, Leah Simoncelli, coordinator of the Eagle Endowment, also presented the eighth annual Martin Luther King Jr. Awards to six student groups. Each group will receive grants up to $1,000 to undertake service projects throughout the Washington community, including a mentorship program for LGBT youth; a hiking club for at-risk youth; and WCL's Human Rights Impact Litigation Clinic.