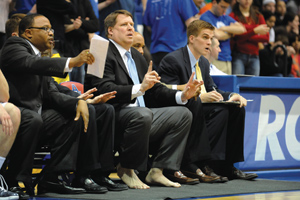 During his team's January 19 game against Army, men's basketball coach Jeff Jones had one more thing to add to his list of standard worries.
Splinters.
For the third straight year Jones ditched his shoes and coached barefoot during AU's 65-62 win at Bender Arena. He did so to raise awareness about Samaritan's Feet, a nonprofit organization dedicated to providing shoes to those who cannot afford them. Every day 300 million people go without shoes, according to the group.
"Coaching in bare feet is a really small thing that I can do to bring attention to both the great work that Samaritan's Feet does and the unfortunate reality that there are a lot of folks out there that are less fortunate than us," Jones told AUEagles.com.