Law
Raskin's Latest Legislative Mission Is Personal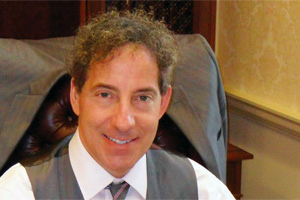 Everywhere Jamie Raskin looks — including in the mirror — he sees people affected by cancer.
"I do not meet a single person who doesn't tell me that there is cancer in his or her family," said Raskin, a Washington College of Law professor. "It is all too commonplace. Cancer is rampant, there's nothing remotely special about my situation."
On that last point, Raskin's not quite right. As a Maryland state senator he's in position to advocate for people who, like him, suffer from cancer or other serious illness. In 2010 his effort to legalize medical marijuana fell short, but he's returned to Annapolis this year with a new perspective and the same dogged determination to continue the fight.
"I'm very committed to the idea that the government should not block people's access to medical pain relief," said Raskin, a Democrat from Montgomery County. "That just makes no sense to me. Government is supposed to be an instrument of the common good and the public welfare, so that means we should give people access to the drugs that they need."
Less than 12 months ago, Raskin never imagined that would mean him. At 47 he was the picture of perfect health, save for a minor acid reflux condition. His doctor ordered an array of tests, including an endoscopy and colonoscopy.
Two birds, one stone. Purely routine. But immediately following the procedure, Raskin knew something was very gravely wrong.
"I woke up and all of these nurses were giving me hugs, which I thought was curious," he said. "I had not inspired that reaction in nurses before. The doctor came over and said your endoscopy's clear but we found a mass in your colon."
A harrowing week of waiting ensued.
"That was probably the toughest part of this whole thing, as hard as chemotherapy has been, because there was so much uncertainty," said Raskin, who with his wife, Sarah, has three teenage children. "I told my kids that there was a mass, and that we didn't know what it was. I learned four days later that it was indeed the wrong kind."
The tumor was the size of a golf ball, and doctors immediately set out to shrink it with radiation facilitated through chemotherapy. For six weeks in the summer, Raskin left his Takoma Park home at 6 a.m. to ensure he was the first one at the Johns Hopkins Hospital clinic in Baltimore when it opened an hour later.
"They zapped the tumor, then I would go back to AU for work the rest of the day."
Reduced to the size of a pea, surgeons were able to remove the growth (along with part of his colon). Because it had not metastasized, Raskin's prognosis for the future is excellent. Still, he is undergoing more chemotherapy now while serving in Maryland's 90-day General Assembly session.
"I go in for two and a half hours, they infuse me with the drug, then I wear a pump for 48 hours to continue the infusion," he said. "I do it every other weekend. I'm done by Monday when I teach."
Raskin has endured the nausea, vomiting, and headaches that often afflict chemo patients. While he has not smoked marijuana due to a family history of respiratory issues that include asthma and cystic fibrosis, why he or anyone else would prevent another from doing so truly bewilders him.
"No drug is perfect," he said. "But you will hear people get up and testify that their doctors tried every other conceivable drug and then said you should use marijuana. It has proven to be a very effective anti-nausea agent and helpful to people who have completely lost appetite. The point is to normalize it so it's just one of many different colors in the doctor's palette which he or she can paint with in cooperation with the patient. I don't think anyone's claiming that it's a miracle drug, but it will help lots of people in certain contexts."
Maryland already is on record as believing that itself. In 2003 the state enacted a medical marijuana law that reduces to a misdemeanor possession or use of marijuana by people with a legitimate medical reason.
"But we don't give them any way to access it legally," said Raskin, who calls the current law "silly." "So we're basically inviting seriously ill people to go out and find a drug dealer to purchase marijuana, and then we subject them to the possibility of criminal arrest and prosecution. That is not a proper way of thinking about it in a civilized society. If you recognize that there are people who need it for valid medical reasons then we should create a process that allows them to get it without being forced into the alleys."
Raskin and his cosponsor, Senator David Brinkley, a conservative Republican and two-time cancer survivor, think they've designed the most carefully controlled medical marijuana law in the country.
Harvesting, production, and dispensing of the drug will be closely regulated, and unlike in places like California, it would only be available to people with a serious illness or condition.
People Raskin now can identify all-too-closely with.
"I'm not going to pretend that I wasn't a liberal before I got cancer," said Raskin, who's also working on marriage equality and political finance legislation. "However it's made me focus on public health as an essential responsibility of people who are in government.
"The medical marijuana thing is really part of that larger picture. I would much prefer if we used the ounce of prevention and stopped so many people from getting cancer in the first place, but so many people are walking around with cancer and leukemia and AIDS and other serious diseases, we should not be in the business of denying them access to relief because we are still fighting a culture war from the 1960s."