Athletics
Moldoveanu in the Center of the Basketball World at American, in Romania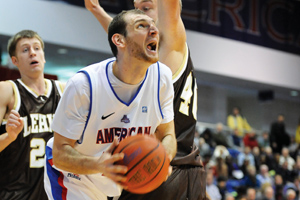 Ever have a week like this?
On January 8 Vlad Moldoveanu poured in a career-high 39 points to lead the American University men's basketball team to a Patriot League season-opening win over Lehigh.
Seven days later he paced all scorers with 26 in the Eagles's 66-57 win at Colgate.
In between he was named Oscar Robertson National Player of the Week, East Coast Athletic Conference Player of the Week, Anaconda Patriot League Player of the Week, and was the subject of a flattering profile in the Washington Post.
Wait, there's one more thing: Less than 24 hours after putting the finishing touches on his virtuoso performance against Lehigh in which he hit three-of-four three-pointers, made all 10 of his free throws, snagged a dozen rebounds and committed just one turnover, he dropped to one knee and asked his girlfriend, AU volleyball player Krysta Cicala '13, for her hand in marriage.
She said yes.
In 2011, everything seems to be coming up Vlad. The 6-foot-9-inch School of Communication senior has established himself as one of the Patriot League's premier players, is heading toward a degree in international media, and hopefully, a career playing pro ball.
It's been a long journey for the soft-spoken Romanian with the sweet shooting touch. Born and raised in Bucharest, Moldoveanu literally grew up with a basketball in his hand. His mother, Carmen Tocala, played and coached for the Romanian national women's team, and now is president of the country's basketball federation. His stepfather, Petre Branisteanu, played professionally and represented Romania the last time the nation qualified for the European championship, in 1987.
"My mom has a picture of me holding a basketball when I was about 1," he said. "I could barely walk, but I always tried to shoot."
By the time Moldoveanu was in middle school, the basket was a lot closer. In eighth grade he stood 6-foot-8-inches tall, and it was clear that basketball was his chosen path. As a boy he'd rise before the sun, watching Michael Jordan dazzle on TV in games that tipped at 4 a.m. in eastern Europe. Technically he was awake, but his head still was filled with dreams of NBA stardom.
"After my freshman year of high school I had to make a decision whether I wanted to turn pro or come to high school here," he said. "I felt that if I came here to play college basketball, I would be a lot closer to the NBA."
So he packed his bags and headed 5,000 miles west to Washington, where he settled in with a host family near the Maryland-Pennsylvania border and attended St. John's College High School in the nation's capital.
"I didn't expect anything to be easy," Moldoveanu said. "It was different because I lived so far from school the first couple of months. It was pretty rough waking up at 4:30 in the morning, after practice driving for two hours. When it got hard, I always had to remember why I was here. I wanted to do something basketball-wise."
Moldoveanu enrolled at George Mason University the year after the Patriots made it to the Final Four. When things didn't work out in Fairfax, he transferred to nearby American, where despite being ineligible during the 2009 season he played a pivotal role in the Eagles' second-straight Patriot League title and NCAA Tournament appearance.
"He was our best player," said AU coach Jeff Jones, who recruited Moldoveanu out of high school. "His transition [to AU] was about as easy as anybody could imagine. In practice he would pretty much do whatever the scout team needed. He would be an inside player, if they needed a perimeter player he would do that. He became a leader."
Moldoveanu has carried that versatility and leadership from the practice floor to competition. He is the Patriot League's second-leading scorer and sixth-leading rebounder (through January 21).
"I don't know if there's anyone else in the league with that combination of skill and size," Lehigh coach Brett Reed told the Post after Moldoveanu thrashed his team.
Yet Moldoveanu never is satisfied. He's a meticulous preparer who in high school constantly jotted down plays in a notebook and in college watches plenty of game film. A self-professed gym rat, Moldoveanu often wears out the Bender Arena hardwood twice a day shooting jumpers and working on his ball handling skills.
"He's always in there to the point where we really have to on occasion kick him out and say sometimes less is more," Jones said. "He loves being in there and working on his game. We just have to make sure there's a balance."
It's a tough task. There's no offseason for Moldoveanu, who in the summer plays on the Romanian national team.
"That's where I started basketball," he said. "I feel like I owe the country and I owe my family to go back and play for the national team."
During his signature performance against Lehigh, his mother was in the stands as he soared to the seventh-highest single-game scoring performance in AU history.
"I want to set goals that are hard to achieve," Moldoveanu said.
Here's one: someday have an even better week.