Journalism
At WAMU 88.5, 'The Mind is Our Medium'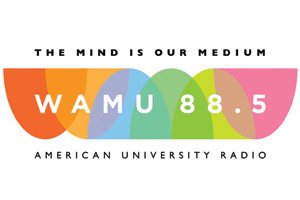 WAMU 88.5 has rolled out a new branding campaign.
Built around the slogan, "The mind is our medium," the campaign reflects the station's values, mission, and expanding multimedia footprint, said Caryn Mathes, WAMU's general manager.
"I think it reinforces things I hear from every segment of all of our constituencies," she said. "When I talk to donors, people on the street, they talk about how our content makes them think, engages them, and how they trust it. We're more than just radio. Our mission and vision statement doesn't even mention the word radio. Whatever platform you engage us on, a podcast, or a stream, or conventional or digital radio, our real currency is thoughts."
The branding initiative debuted January 1, and elements of it include print, online ads, on-air promos, and bus ads throughout the Washington metro area. In addition the station unveiled a new logo, "a stylized rendering of the call letters with overlapping shapes in rainbow colors." The bright, contemporary design reflects the station's commitment to diverse programming and civil discussion of wide-ranging ideas, according to a release.
"I think the slogan and branding that we had before—'Your NPR station in the nation's capital'—was kind of geographical," Mathes said. "It didn't speak to the defining differences of who we are and what we do. This new campaign is going to be ubiquitous."