On Campus
Welcome, Wonks, to AU's New Admissions Center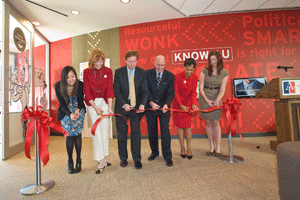 Everywhere they look, the 20,000 prospective students and their families who visit American University each year are posed the question: How do I know AU is right for me?

The answer can be found at AU's distinctive, new admissions center, a compelling 1,680-square-foot space that sets the tone for the new student experience. Nestled on the second floor of the Katzen Arts Center, overlooking the campus that will be their home and the city that will be their laboratory for learning, the welcome center "will convince the kind of young men and women that will thrive here that we're not just an option, we're their first choice," said AU president Neil Kerwin during the ribbon cutting, Feb. 14.

"To know AU is to know that smart, passionate, engaged, citizens who want to learn from leaders, come to Washington and use their knowledge to have an impact on the ideas and issues that really matter," noted Terry Flannery, executive director, University Communications and Marketing.

"This space and this experience are filled with opportunities to learn about the distinctive and authentic traits that make AU stand out among a handful of college-centered research universities."

According to Sharon Alston, executive director, Office of Enrollment, 41 percent of first year students said that a campus visit was very important in selecting a school. Only job prospects and cost of attendance were rated as more important. Furthermore, students who tour campus are three times more likely to enroll than those who don't.

"The visit connects the heart and the mind," Alston explained. "The college choice is more than choosing a place to attend classes and earn a degree; it's a home and community for students for four years."

And according to Provost Scott Bass, universities only have one shot at a favorable first impression.

"That first impression needs to be authentic; it needs to provide insight into the university's culture and community; and it needs to give the prospective student a sense whether they will be a good fit in that campus community," he said. "The new welcome center reflects our university commitment to providing an initial experience that our visitors will remember positively."

From start to finish, the welcome center experience "reflects the dynamism of our creative and engaged campus," added Bass. Highlights include:

a 60-seat presentation room with a 192-inch screen at the front and floor-to-ceiling, high-resolution, panoramic color photos of the buildings bordering the quad on either side
a still wallpaper image of Bender Library that springs to life with a 15-minute video — shot in one take — including nearly 50 AU students, faculty, and staff ; pop-ups deliver entertaining facts about the university while visitors wait for the presentation to begin
a 12-minute feature introducing the AU experience, includes a cast of AU staff and professional actors and an original score
Campus Grounds, a hospitality area that offers coffee, a large campus map, books by faculty authors, and life-size wonks created by alumnus Nate Beeler, SOC/BA '02
three screens outside the presentation room that introduce visitors to American Wonks and an interactive display next to the welcome desk showcasing campus events
AU backpacks and a choice of wonk buttons for prospective students
The welcome center is a work in progress and will be occasionally updated to reflect the ever-evolving aspirations and achievements of the AU community. The provost has proposed the allocation of funds in the upcoming two-year budget cycle for additions and improvements.

The new welcome center reflects the hard work and creative vision of 42 faculty and staff from across campus. The University Communications and Marketing brand team worked with the Enrollment Services team to mold the concept, while the steering committee oversaw construction, technology, brand integration, and admissions elements.

AU also partnered with Feats, a marketing firm that specializes in event planning, and Washington Professional Systems, an audio-video vendor that developed a custom state-of the art technology package. Two other partners were instrumental in shaping the welcome experience: consultant Jeff Kallay of Target X, who audited AU's visit experience and worked with the steering committee to shape requirements, and SimpsonScarborough, which conducted the market research that informed the brand campaign.

Faculty, staff, and students are invited to tour the welcome center, Feb. 15–18. Presentations run from 11:30 a.m. to 12:30 p.m. and 3:30 to 4:30 p.m. in Katzen 201.