Athletics
Banner Day for AU Swimming and Diving Team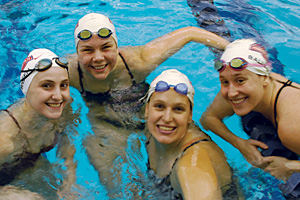 Even the water couldn't cool down AU's swimming and diving team on the first day of the Patriot League Championships in Lewisburg, Pa.
The team of Jess Ballance, Eleanor Clay, Dory Isaacs, and Leah Breen captured the 400 medley relay title, and the Eagles set 20 individual lifetime-bests on Feb. 17.
"We've had great opening days before and this is one of them," Coach Mark Davin told AUEagles.com. "The team is swimming fast across the board and there are a lot of parents and supporters here cheering us on, which has been so helpful."
The victory was AU's first women's relay win since 2002. AU's best individual event on the day came in the women's 200 IM, where Isaacs and Clay each placed in the top seven. Isaacs finished third with a time of 2:03.33, and Clay was seventh in 2:05.61. Isaacs broke her own school record in the event while Clay improved from 10th to fourth on AU's all-time top 10 list.
On the men's side, Ming Ong recorded AU's best finish with his eighth-place effort in the 200 IM. He swam a time of 1:52.74, good for eighth on AU's all-time top 10 list in the event. Additionally, Matt Wurm came in 15th in 500 free in 4:38.98, setting a new personal-best in the event.
Men's Basketball Team Clinches Patriot League Tournament First Round Home Game

Senior Nick Hendra scored 18 points and dished out seven assists to lead the men's basketball team to an important 65-59 win over Army on Feb. 16.
The win secured a top-four conference finish for the Eagles, ensuring that the team will host a Patriot League Tournament quarterfinal game at Bender Arena on March 2.
AU avenged an earlier loss to Army this season by receiving contributions from a number of players. Stephen Lumpkins notched his sixth double-double of the year with 13 points and 15 rebounds. Troy Brewer and Vlad Moldoveanu also scored in double-digits for American with 12 points and 11 points, respectively.
Women's Basketball Team Remains Tied for First

AU won its third game in a row on Feb. 16, defeating Army 60-47 at Bender Arena. The win upped the Eagles's record to 8-3, good for a first-place tie in the Patriot League.
Senior Liz Leer scored a team-high 14 points and grabbed nine rebounds. Junior Lisa Strack added 12 points and snagged seven rebounds, handed out seven assists, and recorded four steals.
"To have 20 assists on 22 baskets is a nice number," Coach Matt Corkery told AUEagles.com. "We shared the ball, moved the ball, and created shots for each other. That's always a good thing playing this time of year. We need to continue to build on this as we close out the regular season and head toward the conference tournament."