Journalism
White House Speechwriters Discuss their Craft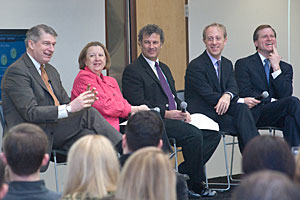 The words they wrote were uttered by the most important and powerful men on the planet, yet they remain largely anonymous.

Until now. Presidential speechwriters from the past four administrations gathered March 8 at American University to share stories and insights from their years in the White House. The keynote session of the 2011 Speechwriters and Executive Communicators Conference hosted by AU's School of Communication provided a window into the fascinating process of penning presidential prose.

Moderator Leonard Steinhorn, a SOC professor, began by asking each panelist sitting before a packed packed house in the spacious School of International Service atrium what it's like knowing the words they write will be analyzed by journalists and studied by historians for years.

Sometimes.

"The truth of it is you're painfully aware that not everything a president says is worth remembering or carved in granite or put in Bartlett's," said Jeff Shesol, a speechwriter for President Clinton. "The speeches that are a very big deal in the moment—the State of the Union—often [are] not going to be historic. Most State of the Union addresses are forgotten. That in a way is liberating, to just write the best speech you can in the moment."

Transcendent moments, however, call for transcendent speeches. Such was the case in the days following 9/11. President George W. Bush's Sept. 20 address to Congress was scheduled on the 17th, and the president wanted a draft of his speech that day.

"We spent hours putting our thoughts together," said John McConnell, one of three Bush speechwriters who worked on the text. The president called the trio into his office and laid out a series of questions he said the American people wanted answered. From those questions, the men crafted the body of the speech.

"I put out of my mind that I was writing history," said Clark Judge, a speechwriter for President Reagan. "History in my view will take care of itself. You've got to be focusing on the task."

Often the memorable lines of a speech don't become iconic until years after they are spoken. When President Reagan famously said 
"Mr. Gorbachev, tear down this wall," the speech was largely derided by the press, Judge said. "President Reagan [was] a very gracious man and a very thoughtful man, and he was adroit on how he imposed himself in the process," he said. "The staff fights were furious, but he singled out that line as one that had to survive."

Despite their ideological differences, the presidents seemed to take similar approaches to editing their speeches. President George H.W. Bush often wrote "too much rhetoric" in the margins of his speeches, before sending them back for revision.

"That was the kiss of death," said Chriss Winston, one of the 41st president's speechwriters. "One of the most important things any speechwriter can do is learn to understand your principal's voice. He liked a very plain, simple kind of language."

Many speechwriters consider themselves poets, but presidents quite often are not interested in reciting poetry.

"[Clinton] was absolutely determined that a speechwriter not use him to show off," Shesol said, a lesson he learned firsthand when the president altered a line he wrote for a run-of-the-mill press conference touting new bulletproof vests attended by members of the law enforcement community.

"I wrote, 'The line of fire will always be a dangerous place, but today we make it a little less dangerous for the those who walk that line,'" Shesol recalled. "The president said, 'The line of fire will always be a dangerous place. I mean, even if you're wearing one of these vests you can get shot in the leg and bleed to death. But today we make it a little less dangerous.'"

When President Bush 43 once cut a favorite McConnell line from a speech, the writer pled his case.

"I said, 'Come on, leave that in, that's a great line. It sounds just like you. He said, 'You're just saying that because you wrote it.'"

The keynote was just one panel of a two-day event sponsored by Ragan Communications and the Public Relations Society of America. SOC professor Eric Schnure was featured on a panel called "How to effectively incorporate humor into your speeches," and Robert Lehrman, also a SOC professor, led a session on Monroe's Motivated Sequence, a speechwriting structure.