Science
Getting Students Into Science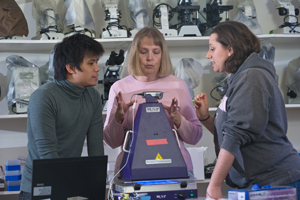 In the early 1970s, when Nancy Zeller was an undergraduate at Pennsylvania State University, she was the only female student in her chemistry class.
Now, marking her 20th year as lab director in the biology department in American University's College of Arts and Sciences, she works at a university where 69 percent of physical and natural science majors are women.
That's quite a change for a woman whose highest aspiration entering college was to become a medical technician.
From her work on developing science exercises for elementary school through university students to training about 15 teaching assistants a semester at AU, Zeller is passionate about providing the best science instruction possible.
"Seventy-five percent of students who say they don't like science had a bad high school experience," Zeller says. "Seventy-five percent who do like science had a positive experience."
At AU, where labs have no more than 15 students—compared with a national average of about 24—she also stresses the importance of teaching labs to nonscience majors. After all, a freshman who dreads science classes may be only one good experience away from changing her mind. That's why even introductory labs at AU are engaging, using professors' research into organisms such as zebrafish as part of the basis for experiments.
If you live in the Washington, D.C., area, you may also have seen media reports that Zeller had a hand in. Ever wonder whether you should worry about bacteria on Metro handrails? How about on your toothbrush?

What about double-dipping—the practice made famous on Seinfeld of going back for party dip seconds on your chip?
The short answer: Yes, there's a lot of yucky stuff out there, on Metro handrails and seats. Some of the dirtiest things are in your house: dish towels and the kitchen sponge. But Zeller and her students found that even triple-dipping into foods like salsa or spinach-cream spread left almost no new bacteria. One possible explanation is the presence of a whole bunch of preservatives in the dip.
For the most part we can relax—Zeller says most bacteria are not harmful. In fact we depend on bacteria for processes like digestion and making cheese and beer.
But there are exceptions.
A few years ago, as part of a local TV news story, she and a fellow AU science professor had students in their summer bio class help check out lipstick samples, the kind you find in department stores. At some locations they found significant contamination, with some samples bad enough to cause infections.
"Using one of those sampler lipsticks would be like kissing a bunch of strangers," Zeller said in a Catalyst article on their research. (Flip to page 9 to check out the article.)

For Zeller, whether she's advising reporters for TV and print media, some of whom are AU journalism students, or writing the lab curriculum, it's all part of her mission as a science educator.
"I like getting people excited about science," she says.